…says Nigeria 'll be out of recession with involvement of women entrepreneurs
By Ebun Sessou
Director General, Federal Institute of Industrial Research Oshodi, FIIRO, Prof. Gloria Elemo has urged women entrepreneurs to be proactive in business start ups saying that if women are involved directly in business, the country will be out of recession completely and unemployment will be eradicated.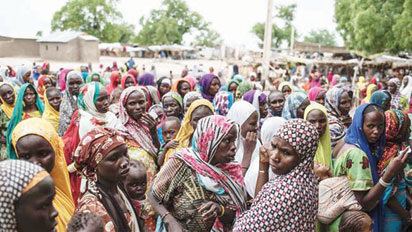 Elemo said this recently during the 6th  Annual Lecture for Women Entreprenuers, organised by the Joan Agha Foundation, said, women need to be empowered and informed to know where information and whenever they are embarking on business.
Elemo who said FIIRO is a federal establishment organised as research institutes capable of enriching entreprenuer's technicality and potentials noted the organization enhances women all the required skills and capacity to set up their businesses.
Speaking on the financial challenges women face when trying to establish business, she said, there are series of programmes of government that can give quick access to funds including bank of industry, agriculture, special programme with CBN, micro-finance houses among others. Noting that the organisation links women to the finance institutions to be able to get loans, grants to start business.
According to her, "Our success is that you are able to establish your business. It is not just on paper, we do recommendations and we ensure that what you are doing is sustainable. We wouldn't want the money to be wasted. We also stand as surety to ensure that you get the funds.
Meanwhile, the founder of Joan Agha Foundation, JAF, Mrs. Joan Agha, said, there are lots of opportunities women would derive if they are well connected.
Speaking on the annual lecture, she said, it is a key developmental programme set to transform the lives of aspiring and existing women entrepreneur by equipping them with powerful information and skills to succeed in their business.
Obaseki counts gains of Edo Innovation Hub as world marks Devt. Information Day
Her words: "According to the National Bureau of Statistics, Nigerian women constitute 70 percent of the informal economy and one third of Nigeria's formal small and medium-sized enterprises, SMEs are owned by women.
"Studies also show that despite the influx of women entrepreneur, not much growth of these businesses have been recorded due to limited access to finance, markets and entrepreneurial skills.
"This is to further create a platform and unique opportunity for women entrepreneurs to ensure that they are well equipped to conceptualise, initiate and operate successful entreprises which will develop into future big businesses.
"The focus is to rejuvenate the energy, power and intelligence of women entrepreneurs to contribute to the next stage of business evolution.
With the theme, "Women Entrepreneurs: Catalyst for Women Development", Agha implored women to be sincere to themselves so that they can be like any other developed nations.
On the foundation, she said, the issue of funding has been difficult.
"We also grant scholarships to brilliant indigent students. And 39 students have benefited from primary to tertiary institutions. We give grants to youths and lots of youths have benefited.
"We have everything in Nigeria and so it is our responsibility to become a producing country. Even if it is our own food.
"We monitor all the people that are given grants to ensure that their lives are better. There is no country that can survive without producing something and that is why I am interested in entrepreneurship especially in women. The road to survival for the nation is in production.
Getting business loans from banks Wema Bank (5)
"The foundation focuses on the youths, the future of the society. The women, because we believe that if it is well with a woman, it is well with the society, it is well with the nation.
"The foundation has empowered 64 women entrepreneur with various sums of money from N20,000 to N200,000 as loan without interest across the country.
According to her, JAF, aims at long term developmental programmes by addressing the needs of youths and women in our society through educational scholarships, women and youths empowerment and JAF kitchen.
"The organisation has also trained 1160 women on entrepreneurial capacity building and 1134 youths. It has partnered with International Women Society Skill Acquisition, Lagos, Favoured World, Obinomba, Delta State and Carrington Youth Fellowship, CYFI of the US Consulate General to train youths in different skills.
"This is to make them productive members of the society. Women get loans without interest for their business. We also realised that it is not only money but training would go along way. We started the training six years ago and this is the 6th  edition.
Also, Mrs. Ojini Olaghere the former Access Bank's Executive Director, Operations and Information Technology, said, women have done so much in the area of entreprenuership. But added that access to finance has been a major problem.
Osinbajo to kick-off entrepreneurship forum
"Women are denied loans because they lack good way of restructuring their business. We have businesses without business name.
"Most women do not need huge amount of money to start their businesses, all they need is information on how to restructure their businesses. But, they need to know how to present their request such that it would be approved", she said.
She noted that Nigerian government knows there is need for women entrepreneurs so as to grow the nation's economy.