By Gabriel Ewepu
ABUJA- THE Federal Government, at the weekend put women in food production frontline as it launches National Gender Action Plan, NGAP, in the agricultural sector.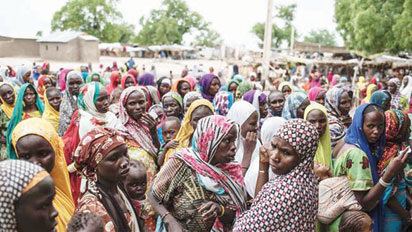 This was disclosed by the Minister of Agriculture and Rural Development, Chief Audu Ogbeh, during the presentation of a document put together by the Ministry and Synergos in Abuja.
According to Ogbeh, the NGAP aims at building women farmers' agricultural capacity and ability to embrace modern system and technology in farming and food production that would lead to a paradigm shift from the subsistence way of farming.
He added that this programme will boost their knowledge, skill and approach to go into large scale cultivation of crops according to best practices.
He said: "Women are good managers, and their commitment to the well-being of the family and the society cannot be over emphasized. That is why we launched the National Gender Action Plan, NGAP, which is geared towards building the capacity of women and to help them acquire knowledge and skills in modern day agricultural practices in food production.
FBNQuest Merchant Bank supports APWB annual dinner
"Women remain the anchor of our nation's agriculture as they contribute   immeasurably to the development of the sector as evidenced in various statistics which show women constitute 70 per cent of the small scale farmers that actually feed the nation."
However, the Minister noted that there are still challenges women farmers grapple with in the sector as he highlighted some of them which include poor access to finance and farm inputs such as fertilizers, improved seeds, farm machinery, agro-chemicals, access to land, market access and in some cases insecurity, and others.
Meanwhile, Wife of the President, Aisha Buhari, harped on the importance and the need to focus on girl-child education by both government and the organised private sector as it remains paramount in national development.
Buhari who was represented by the Special Assistant to the First Lady, Dr Hajo   Sani, said if a girl-child will be given qualitative education she becomes a strong pillar in sustaining the family and nation at large.
She also expressed optimism that with the launch of NGAP it will become an intervention that will ameliorate the plight of women across the county, and that would also positively impact on the agricultural sector.
Advertising stakeholders hold cocktail
Also speaking was the Permanent Secretary of the Ministry, Dr. Abudulkadir Mu'azu, who in his keynote address pointed out that the country's food industry, was yet to meet the food demand of its over 170 million people in quality and quantity.
Being represented by a Director in the Ministry, Dr. Watergire Bright,  said government was making effort to reduce the country's food bill of about N1.2 trillion annually, therefore urged local food producers to leverage on government policies and take advantage of the opportunities to create wealth and employment.