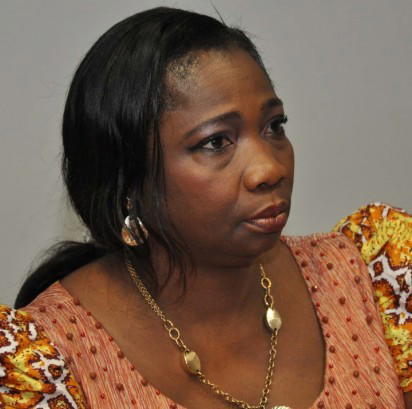 Abike Dabiri-Erewa
The Senior Special Assistant to the President on Foreign Affairs and Diaspora,Mrs Abike Dabiri-Eriwa, has demanded for full autopsy and investigation from Kenya Government into the killing of a Nigerian, Mr Bamiyo Ashade, allegedly killed by the Kenyan police.
Dabiri-Erewa,  in a statement by her media aide, Mr Abdur-Rahman Balogun, on Sunday in Abuja said that the reported killing was contained in the briefing by the Nigerian High Commissioner in Kenya, Mr Sheidu Momoh.
Dabiri-Erewa said that the envoy who said this when he met with Nigerians in Kenya pleaded with them to remain calm.
She quoted the envoy as saying that he was on top of the situation and that he had met with the aggrieved Nigerians for four hours with a formal complaint to the Kenyan Foreign Affairs demanding full autopsy.
The Envoy, however, noted that contrary to the believe, the late Bamiyo Ashade, also known as Bamo, was not a student in Kenya but a Nigerian living in Kenya and had met with the family of the bereaved to commiserate with them with an assurance that justice will prevail.
"The deceased, Bamiyo Ashade, the second born in a family of three, was brutalised at his house in Four ways estate, Kiambu, on Monday Oct. 15, while the police officers allegedly tried to extort him despite finding out he had valid papers.
"However, he stood his ground, as he didn't commit any crime. The officers then resorted to harassment and assault. Seeing that he was nearing his death, he was quickly rushed to a hospital, where he died."
Dabiri-Erewa noted that friends and relatives had taken to the social media to condemn the police brutality directed towards Nigerians in the Diaspora and joined in calling for justice for Bamo.
https://newlive.vanguardngr.com/2018/10/mng-declares-support-for-atiku/
She said that a family friend to the Ashades in Ibadan, Nigeria, Alhaji Sulaiman Adio, lamented that the family had lost two of their three siblings within six months, as Bamiyo's elder brother died six months ago and thus, joined in the call for justice for the deceased.
"In view of the foregoing, we appeal to the Kenya Government to conduct thorough investigation into the gruesome killing of this young Nigerian and bring the perpetrators to justice accordingly'', Dabiri-Erewa said.
The presidential aide also condoled with the family of the deceased and prayed God to comfort them in the best way.
The Presidential aide also said that full investigation had commenced into the circumstances of a Nigerian man who died after he fell from the 8th floor of his apartment due to the fear of being arrested by some officials of the Kenyan law enforcement agency in Nairobi.
The sad incident happened on Sept. 26, and the deceased was laid to rest, on Monday Oct. 15, at the Langata cemetery, Kenya.