Dayo Johnson
Akure – GOVERNOR Ayodele Fayose of Ekiti state Sunday said he is not afraid of the Economic and Financial Crimes Commission, EFCC and not ready to escape to anywhere.
He spoke with newsmen in Akure airport on his way to Abuja to honour the anti-crime invitation.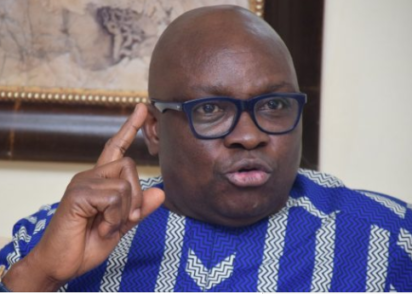 Fayose said was ready to defend all his actions while in office.
https://www.vanguardngr.com/2018/09/apc-distributes-electoral-materials-for-presidential-primaries-to-lgs/
According to him, the trip to Abuja was to honour his earlier promise that he will report at the anti graft commission's headquarters immediately after his tenure.
Fayose told newsmen that "My tenure expires on the 16th of October, this is the journey to Abuja.
"It is safer to be in Abuja than to be in Lagos and be creating impression that you want to escape.
https://www.vanguardngr.com/2018/10/hurricane-michael-throws-1m-people-into-darkness/
"There is no seaport in Abuja, EFCC doesn't need any drama, I am a man of courage, I have told them I'm coming and I'm on my way to them.
"So, after a meritorious service, anybody who wants to call me to question, I'm available to them, just one call away. And my going now is my demonstration to them that I'm a man of my words.
" I'm not scared of anything. I always say to people that the life of a man does not consist in the abundance of what he has, life is for the courageous, not for the weak.
"I have served well, I have defended the common man in this country and I will continue to defend them.
"I will never be cowed by anybody, it is important to speak truth to power, I will not allow myself or any Nigerian to be oppressed.
On his message to the people of Ekiti state, the outgoing governor said " my message is that I remain their leader, in or out of office, I am always their leader.
He added that "Ekiti comes first above everything and anybody and we will continue to defend our people.