.As EU trains Electoral Officials on Conflict Management
By Omeiza Ajayi
ABUJA – Ahead of February general elections, the Independent National Electoral Commission INEC has warned politicians against seeing the process as a do or die, urging them to see elections as a means to an end and not an end in themselves.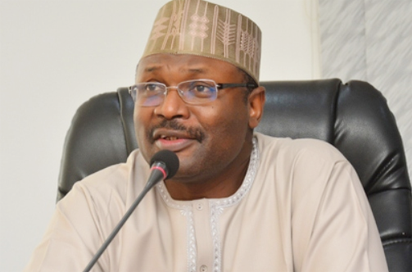 INEC National Commissioner and Chairperson of its Election and Party Monitoring Committee, Prof. Antonia Okoosi-Simbine gave the charge Tuesday in Abuja at a workshop on Leadership and Conflict Management Skills for Electoral Stakeholders organized by the European Centre for Electoral Support ECES.
"Elections and electoral processes are by nature conflictual, fraught with several challenges that often test the skills of staff of Election Management Bodies EMBs. This is particularly so in developing democracies where elections are at times perceived as warfare that must be won at all costs. Indeed, a cursory examination of the typical electoral cycle reveals that every phase is fraught with both potential and real dangers.
"Election which is supposed to be a means to an end, that is, good governance is often seen as an end in itself. So much contestation surrounds our elections with little or scant respect for rule of law and due process", she lamented.
She charged electoral officials to improve on their conflict management skills and the need to "be able to document what happened, how it happened and how you got yourself to a situation where a fracas began. You need to know how to report and analyse what happened from the cause of the problem to the steps you took to manage the situation".
Project Coordinator of ECES, Rudolf Elbling said "the training will strengthen the long term capacities of participants and the Commission to effectively prevent and mitigate elections related conflicts and its triggers. Given the competitive nature of elections, conflicts among stakeholders are bound to occur at various stages of the electoral cycle which must be effectively managed. In managing these conflicts, there will also be need to resolve disputes among stakeholders through negotiation and mediation. Hence the importance to strengthen the electoral administration leadership skills to create the conditions for efficiency, effectiveness and sustainability in their outcomes in areas of institutional capacity building which will in turn improve drastically on the level of integrity and credibility of the electoral process in the face of distrust from other stakeholders and help minimize risks of degeneration of electoral conflict into full blown deadly clashes".
https://www.vanguardngr.com/2018/10/could-the-cbn-be-big-enough-to-apologise-to-mtn-shareholders/
The training is part of the European Union Support for Democratic Governance in Nigeria and is aimed at exploring ways in which electoral stakeholders could improve on their leadership skills and take onboard means for identifying, analysing, mitigating and managing the escalation of electoral violence and conflict throughout the respective electoral cycles.
https://www.vanguardngr.com/2018/10/move-to-stop-installation-of-new-obaro-of-kabba-suffers-setback/