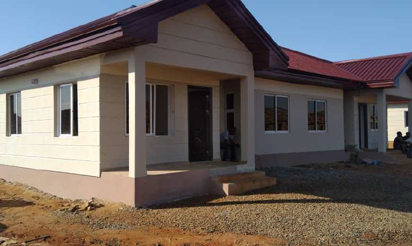 Emotan Gardens
as Oba Ewuare II Golf tourney tees off
The Edo Development and Property Agency (EDPA) and MIXTA Nigeria have assured subscribers for the 1800 housing-unit Emotan Gardens of a new experience as the garden is going to redefine housing landscape in the state.
Speaking at the tee-off of the 7th Oba of Benin Invitational Golf Tournament at the Benin Club, representatives of EDPA and MIXTA Nigeria expressed their support for the golf tournament, one of the activities lined up for the second coronation anniversary of the Benin Monarch, Omo N' Oba N' Edo, Uku Akpolokpolo, Ewuare II.

Executive Chairman, EDPA, Mrs Isoken Omo, said "We are here to identify with our Oba and to congratulate him on his second year on the Royal Throne."
Omo added: "We are also using this collaboration to market Emotan Gardens, it is our flagship estate and we have different housing types from affordable to high cost. We also have land for sale."
She explained that the first phase of Emotan Gardens project situated in Benin City, the Edo capital, will be handed over to clients by the end of November this year.
"We are building in phases so that people can move into their houses as soon as we complete each phase. At the moment, we have 68 housing units on ground, at different stages of completion and we intend to hand over some of the property before the end of the year. By the end of November, people will have some of the houses that have been built", the EDPA boss said.
https://newlive.vanguardngr.com/2018/10/kaduna-state-govt-relaxes-kachia-curfew/
Head, Business Development, Sales and Marketing, MIXTA Nigeria, Mr Lawrence Korede-Salu, said the company identifies with the golf tournament and is leveraging the sporting event to enable the state feel the presence of the company and to market the Emotan Gardens estate.
"Emotan Gardens is going to redefine the landscape of housing in the state. We have people who have purchased and we have started allocating units. This is the Edo State Government's approach to building model estates in the state," Korede-Salu said.
Dr Emmanuel Ighodaro, Secretary of the 7th Oba of Benin Golf Tournament Organising Committee, commended EDPA and MIXTA Nigeria for identifying with the competition and described the golf tournament as a great platform to showcase Emotan Gardens.
"This year's tournament is all about networking and it is a win-win for our sponsors because as you are supporting the game, the system is also supporting you" Ighodaro said.
https://newlive.vanguardngr.com/2018/10/benin-the-ancient-kingdom-of-warriors/