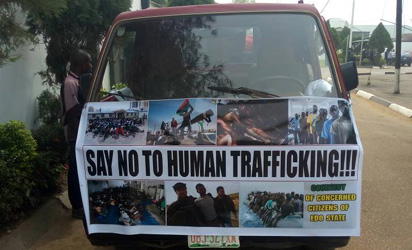 File image of Concerned Edo Citizens, at Oliha Market, in Benin City on the campaign against human trafficking.
The Edo State Governor, Mr. Godwin Obaseki, has said that the ongoing fight against human trafficking in Edo State is in recognition of the dignity of the girl child and her capacity to contribute to the growth and development of society.

Obaseki said this in Benin City, in commemoration of the International Day of the Girl Child celebrated by the United Nations and its global partners on October 11, each year.
He noted that "the fight against human trafficking and illegal migration requires the support of everyone as the menace debases the essence of our common humanity."
The governor further said that his administration has demonstrated the readiness to attend to the peculiar challenges faced by girls and women in the state with the appointment of 19 female aides on gender issues, who have been enriching government policies and programmes with the needs of girls and women.
"We are empowering our girls and their male counterparts through the new basic education sector transformation (Edo-BEST) initiative of our administration; the various skills acquisition and job creation programmes of EdoJobs, an agency of the state government and we are committed to protecting our young girls in schools with the Child's Rights Act, amongst other initiatives," he said.
He added that the landmark judgements secured against child molesters in the state is a testament to the commitment to protecting the girl child from social vices, noting that even more policy measures will be adopted to give the girl child a broader space to realise her potential.
Obaseki described as apt, the theme of the 2018 International Day of the Girl Child, With Her: A Skilled GirlForce, and in consonance with the underlying philosophy of his administration's well thought out programmes for the girl child.
According to the United Nations, October 11 has been marked as the International Day of the Girl, since 2012, to highlight and address the needs and challenges girls face, while promoting girls' empowerment and the fulfilment of their human rights.
"Today's generation of girls are preparing to enter a world of work that is being transformed by innovation and automation. Educated and skilled workers are in great demand, but roughly a quarter of young people – most of them female – are currently neither employed or in education or training.
"Of the 1 billion young people – including 600 million adolescent girls – that will enter the workforce in the next decade, more than 90% of those living in developing countries will work in the informal sector, where low or no pay, abuse and exploitation are common," the UN said.
The global body explained that it is using the day to "work alongside all girls to expand existing learning opportunities, chart new pathways and calling on the global community to rethink how to prepare them for a successful transition into the world of work."