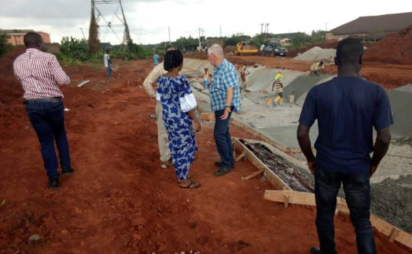 Edo State Government officials with contractors during inspection of on-going work at the Uwelu axis of the Benin Storm Water Project, in Benin City.
Following the sealing of the final investment agreement by the Edo State Governor, Mr Godwin Obaseki, with the vice president of China Harbour Engineering Company (CHEC), Li Yi, for the development of the Benin River Port in Gelegele area of the state, the state government is set to meet with representatives of communities that will host the facility.

Secretary to the State Government, Osarodion Ogie Esq., in a statement issued in Benin City, said the meeting will "discuss the Environmental Social Impact Assessment (ESIA) exercise and Resettlement Action Plan (RAP) in respect of the Benin City River Port (BRP) and Access Road Development Project."
Ogie noted that those expected at the meeting include the "Chairmen of Ovia North-East Local Government Area, Ikpoba-Okha Local Government Area in Edo State, Warri North Local Government Area in Delta State and Pere Godwin Ogunoyibo of Olodiama Kingdom.
Others according the SSG are "elders, leaders of interest groups and members of Gele Gele, Asabotie, Ureju, Ajoki, Ologbo, Bresibi, Young Town, Tisun, Obagnoro, Tebu, Ajaolunu, Oboghoro, Eke, Jalla, Ugheye and Ugbogbudu communities."
https://newlive.vanguardngr.com/2018/10/senate-seeks-urgent-intervention-to-check-erosion-threats/
The state government urged all interested parties to attend the meeting that will hold at Imaguero College Conference Hall, on Tuesday October 30, 2018, by 10am.
According to Obaseki, the investment agreement with the Chinese partners includes the building of a port on the Benin River, dredging of the river which is a channel of about 40 kilometres, and the construction of a link road to the Benin bye-pass.
The governor explained that "The Benin River when completed, will link the Lekki Deep Seaport, help decongest the ports in Lagos State, open up Edo State to the international market by serving as a platform for import and export trade.
"The company we are working with is the largest investor in the Lekki Deep Seaport. The Benin River Port is going to be a sister port to the Lekki Deep Sea Port. We expect that up to 30 per cent cargo going to the Lekki Deep Seaport would be meant for Benin port."
He maintained that "The construction of the Benin River Port would also provide opportunities to export agricultural and manufactured products being produced in the state.
"We are investing massively in agriculture particularly in areas like oil palm, rubber, cassava, fruits and all range of agricultural produce which need to be processed and exported outside the country."
"There are companies operating in the state and are seeking to export their products. The port will provide opportunity not only to export agricultural produce but also some of the products that are now being manufactured in our area."
https://newlive.vanguardngr.com/2018/10/senate-seeks-urgent-intervention-to-tackle-erosion/