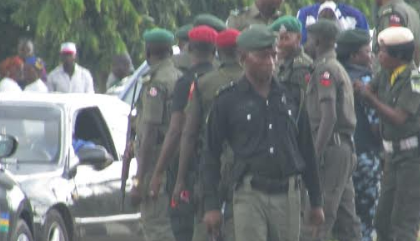 Police tear gas Senate President Senator Bukola Saraki and other PDP Presidential aspirants during the protest for a free and fair election on the Street of Abuja. Photo by Abayomi Adeshida 05/10/2018
At least 30 "bandits" have been killed during a crackdown by the armies of Niger and Nigeria in their troubled frontier where kidnappings and cattle rustling are rife, Niger's interior minister said Tuesday.
Criminal gangs had been operating in a "sanctuary" of dense forest between the Maradi area of southern Niger and the Nigerian border, Bazoum Mohamed said.
A three-week operation by the two armies meant authorities were now "fully in control" of the region.
"No fewer than 30 bandits were killed, a dozen taken prisoner and twelve of their bases have been dismantled," he said on local television, adding that the bases were in Nigeria.
He said the groups kidnapped for ransom, robbed traders and stole cattle "on a large scale" to drive into Nigeria.
"The situation had worsened to the point" where the leaders of both countries had agreed to the security crackdown, Bazoum Mohamed said.
"We are in the midst of clean-up operations," he said.
In August, Niamey had announced it was sending security reinforcements to the Maradi area on the southern-central part of the border, which abuts the northwestern Nigerian state of Zamfara.