By Nkiruka Nnorom
DIAMOND Bank Plc has recorded N142.54 billion in gross earning, and N3.09 billion profit before tax, PBT for the nine month ended September 30, 2018.
The interim financial result of the bank released to the Nigerian Stock Exchange, NSE, showed that the bank disbursed a total of N1 billion to small business owners under its cash flow-based Small and Medium Enterprises, SMEs, lending scheme.
Breakdown of the result showed that the contribution of non-interest income to profit increased by 10.81 percent to N27.32 billion in quarter three, Q3, 2018 from N24.66 billion in Q3 2017, while impairment charges was down 24.21 percent to to N25.17 billion from N33.21 billion. Interest expense went up by 18.32 percent to N41.26 billion year-on-year, but it has continued to decline in-line with guidance, falling by 15.36 percent from N14.83 billion Q1 2018) to N12.56 billion Q3 2018. The bank stated that cost containment measures are underway with the digitization process contributing to quarter-on-quarter gains, leading to 0.36 percent decline in Operating Expenses, OPEX, to N22.15 billion.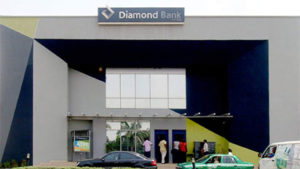 Commenting, Mr. Uzoma Dozie, Chief Executive Officer, Diamond Bank, said: "The global economy is currently witnessing a shift in trade relations alongside continued interest rate adjustments. This has led to greater volatility across markets and increasingly fragile economies. Nigeria's economy has not been immune to certain headwinds, so that while the economy recorded quarters of expansion, the rate of growth has weakened.
https://www.vanguardngr.com/2018/10/smart-watches-with-potential-capabilities/
"However, against this backdrop, our digital-led retail strategy has remained robust. Through this strategy we have been able to continue scaling up by reaching a wide pool of customers both cost effectively and efficiently.
As a result of our network and digital infrastructure, during Q3 we reached the N1 billion mark in total loans disbursed to SMEs."
Subscribe for latest Videos