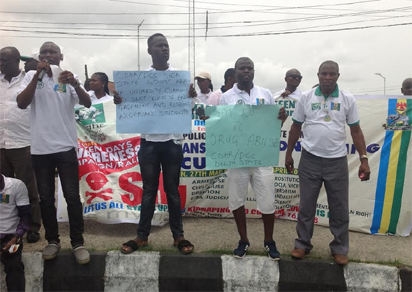 Delta State Chairman, Committee for the Defence of Human Rights, CDHR, Comr. Kehinde Taiga (2nd left); Delta Central Coordinator, CDHR, Comr. Kelly Efemena Umukoro (2nd right) during the flag off ceremony of a seven days awareness campaign/ rally titled," Deltans Against Kidnapping and Cultism" in Warri.
By Chioma John
Over 7,000 members of the Committee for Defense of Human Rights, CDHR, spread across Delta state, have vowed to cast their votes based on the credibility of individuals standing for elections into various elective offices rather than  political party affiliations.
Making this known in a communiqué issued at the end of its congress held in Warri, the body noted that it would not compromise anything for credibility, transparency and commitment to electoral promises.
Reading the resolutions on behalf of its members, Delta State branch Chairman of CDHR, Prince Kehinde Taiga, said: "More than 7,000   members of CDHR spread across Delta State, have decided to profile all the candidates vying for elective offices in the state in next year's elections to ascertain the credibility of every candidate, irrespective of their political parties and vote individuals who can deliver on good governance.
"Delta CDHR has decided to place more priority on individuals with proven track records to deliver on the mandate given to them by the electorate based on their campaign promises.
UNAGHA, EX-APC PRESIDENTIAL ASPIRANT YELLS: APC fractured in nearly 36 states, can't win with Oshiomhole
"We have observed the faulty nature of the internal democracy of the various political parties in the country and have come to the realisation that more often than not, the political parties impose less qualified candidates on the electorate to satisfy political interests and compromise good governance.
"This must stop and Delta CDHR is determined to be at the forefront of the campaign to champion a new course that would take our democratic values to the next level by jettisoning the choice of wrong candidates parties impose on us for a more credible and acceptable candidates that would deliver the dividends of democracy to the people.
"Delta State indigenes deserve leaders with credible track records to deliver on affordable quality education, affordable medicare, good road networks and potable water supply."