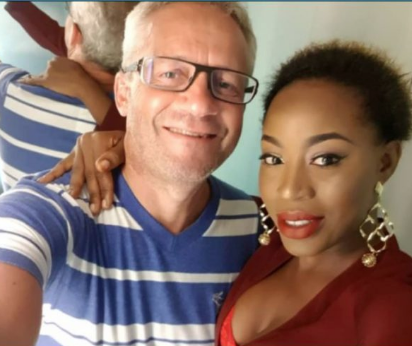 Peter Nielson and his Late wife
By Onozure Dania
LAGOS—HOUSE maid to the Danish National Peter Nielson, who allegedly murdered his wife Zainab Nielson and his daughter Petra, Miss Evelyn Gimba, yesterday, told a Lagos High Court sitting in Igbosere that she never witnessed any violence between the defendant and the deceased.
Gimba, a second prosecution witness, who testified in the ongoing trial of Nielson, said while she was with them, she never witnessed any violence as they were always happy.
The witness, who was giving evidence before Justice Mobolanle Okikiolu-Ighile, said that she has never seen the defendant drunk.
Gimba, who said she got employed through the deceased's friend, told the court while she was being cross examined by the defence counsel, Mr. Olasupo Shasore, SAN.
Recall that the defendant was alleged to have committed the offence on April 5, 2018.
The defendant was arraigned on June 13, on a two count charge of murder.
He was alleged to have murdered his wife Zainab Nielson 37, and his daughter Petra Nielson 3, at their resident at number 4, flat, 17, at Bella Vista Tower, Banana Island Ikoyi.
At the resumed hearing of the case, yesterday, Gimba said that on the fateful day of the incident, she did not hear any noise before she woke up at 6a.m, to resume her duties.
The witness said: "I called one of the children's number, but it was switched off, I knocked at the door severally before it was opened for me. I then asked the girl that opened the door what type of sleep she was still sleeping up to that time.
"The girl then told me that my madam and her husband fought the previous night, I saw bruises on the defendant's forehead and hand when he came out from his room.
The witness had earlier given her evidence in Hausa language but was interpreted in English by an interpreter, Adamu Turaki.
She was led in evidence by the prosecutor, Mr. Adeniji Kazeem, SAN.
However, after the evidence of the witness, the defence counsel made an oral application urging the court to make the proof of evidence "actual evidence" before the court.
Shasore made the application to quash the objection made by the prosecutor preventing the defence from asking a witness questions from her statement previously made at the police station.
But the prosecutor, in his response, said: "We are not stopping the defence from cross examining the witness, what we are saying is that he should tender the statement in evidence".
After listening to the argument, Justice Okikiol-Ighile adjourned ruling on the oral application until October 10.