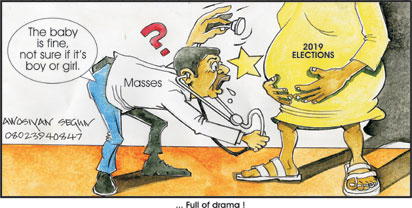 Election
By Femi Bolaji
Jalingo – A Federal High Court in Jalingo has directed the issuance of summons of appearance to the gubernatorial candidate of the All Progressive Congress, APC in Taraba state, Sani Danladi for failure to appear before the court.
Danladi alongside a lawmaker in the state assembly, Mark Useni and a former Minister of Labour and Productivity, Joel Ikenya are facing a two count charge of conspiracy and violation of financial regulation preferred against them by the Economic and Financial Crimes Commission, EFFC.
The trial which was attended on Tuesday by the first and second defendant, Mark Useni and Joel Ikenya was however stalled by the absence of the third defendant, Sani Danladi whose counsel was present.
The Prosecuting Counsel, Ahmed Muntakar noted that the absence of Danladi was a major impediment to the progress of the case and prayed the court to issue a summons in line with the provision of Section 113 and 114 of the Administrative of Criminal Justice Act 2015 to the defendant against next sitting.
According to him " we have used all mechanisms to ensure that we reach him but we were unable to and that was why we prayed the court to issue a summons for him to appear before the court."
https://newlive.vanguardngr.com/2018/10/minister-tells-court-how-over-n2bn-was-spent-on-292-water-projects/
Counsel to the Danladi, Yakubu Maikasuwa explained that the defendant was not notified and served the charge to appear before the court.
He said, "the defendant was on administrative bail and was supposed to be notified that the matter was coming up before the court. In criminal trials such as this, he needed to be served a copy of the charge.
"He is not aware of today's date and has not been served the copy of the charge and that is why he is not in court today."
In his ruling, the presiding Judge, Justice Stephen Daniel Pam ordered the issuance of summons to the third accused person, Sani Danladi for his appearance before the court in next sitting slated for December 5, 2018.
https://newlive.vanguardngr.com/2018/10/north-central-smooth-coasting-for-lalong-useni-ortom-jime-dina-melaye-survives-in-kogi/