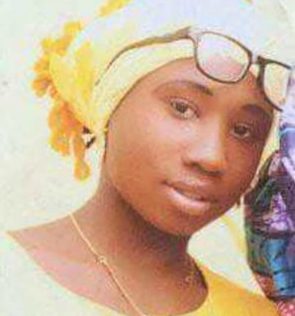 Leah Sharibu
By Sam Eyoboka
IMMEDIATE past president of Catholic Bishops Conference of Nigeria, CBCN, Archbishop Ignatius Kaigama, has pleaded with Boko Haram insurgents to  release the captives in their custody forthwith, including Leah Sharibu.
Kaigama also cautioned on next year's general elections, saying: "If you want peace, we will definitely have peace. Election is a game that is supposed to be free and fair; if you allow the winners to be winners, and collaborate with those who win.
"But when there is impunity and people perceive that their votes have been robbed, you can only get a violent response. We don't want that. We are tired of violence. I hope this election will go through without loss of human lives."
Responding to the recent killing of another aid worker with the ICRC by Boko Haram terrorists, the Catholic Archbishop of Jos wondered why the group is continuing on this part of human destruction.
Ahmadiyya honours Onaiyekan with Peace award
According to the cleric, "they want to demonstrate that one can practise Islam according to how God wants. And if that is the case, I'm not sure if it's the will of God that the rights of people should be violated. I'm not sure that violence should become a weapon.
"I think this is not religious and it is not the will of God. I think it's a contradiction when they are fighting for religious reasons and are involved in such acts. We are so very concerned that lives are not being respected. We hope and pray that it stops. And in the name of humanity and in the name of God Almighty, the Creator, I pray that they will release all those they are holding."
On Leah Sharibu and  other hostages, the archbishop said: "It's so unfortunate and inhuman. I empathize with them. We are still optimistic that victory will prevail and these people in the hands of the captors will one day see the light of day and be joined to their families."
Meanwhile, Hausa Christians Foundation, HACFO, an indigenous ministry working among the Hausa People Group of Nigeria has written a letter to Leah Sharibu, as part of its advocate for all the Hausa Christians to be given the same platform, equal rights and privileges like the right to vote and be voted for as enshrined in the constitution of Nigeria
HACFO is working  for the emancipation of Christians in the Northern states of Nigeria and seeing to the actualisation of freedom to practice their religion without fear of intimidation or discrimination.
The group has denounced the continued detention of 15-year old Leah who was abducted on February 19 alongside 109 other female Muslim students who were released by their Boko Haram captors on March 21.
President Buhari's Statement at 73rd Session of UNGA
While urging every Nigerian to join it in prayers until Leah is released, its letter to her read in part:"Dear Leah Sharibu, The Daughter of Zion, we refuse to be silent about you even to this time! We pray for you daily and our faith is growing stronger by the day. We are certain that God that kept you alive till today is able enough to rescue you from the hands of these evil men.
Those who use your pain for their gain at whatever level will not live to enjoy it. Shame and misery shall be the lots of whoever has a hand in your enslavement. Your tears and pains shall not be in vain any more. Whoever has a hand in your captivity shall never know peace nor freedom until you're released.
Today, we reaffirm our unwavering commitment to remain with and for you until it ends in praise. May God give us the leaders that have a heart for the people. We love and pray for you Leah…Your freedom is now in Jesus Name."