Thousands of people are converging on the Vatican for the canonization of Pope Paul VI and Archbishop Oscar Romero, two of the towering figures of the 20th-century Catholic Church.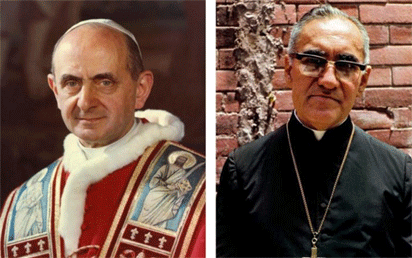 Pope Paul VI oversaw the modernising church reforms of the 1960s, while Archbishop Romero was a human rights icon murdered for his defense of El Salvador's poor.
Pope Francis is to celebrate Sunday's saint-making Mass wearing the blood-stained rope belt that Romero wore when he was gunned down in 1980 and using Paul VI's staff, chalice and pallium vestment — evidence of the strong influence both men had on history's first Latin American pope.
Some 5,000 Salvadoran pilgrims travelled to Rome for the ceremony, and tens of thousands more stayed up all night to watch it on giant TV screens outside the San Salvador cathedral where Romero's remains are entombed.
For many it was the culmination of a fraught and politicized campaign to have the church formally honor a man who publicly denounced the repression by El Salvador's military dictatorship at the start of the country's 1980-1992 civil war.
"I am here to give glory to Monsignor Romero.
"He is a light for our people, an inspiration for all," said Aida Guzman, a 68-year-old Salvadoran woman who carried photos of people killed during the war as she joined thousands in an evening procession in San Salvador.
President Buhari delivering Nigeria's statement at #UNGA⁠'s ⁠73rd Session
Romero, the archbishop of San Salvador, was gunned down by right-wing death squads as he celebrated Mass on March 24, 1980, in a hospital chapel.
A day before he was killed, he had delivered the latest in a series of sermons demanding an end to the army's repression – sermons that had enraged El Salvador's leaders.
Almost immediately after his death, Romero became an icon of the South American left and is frequently listed along with Martin Luther King Jr. and Mohandas Gandhi as one of the world's most influential human rights campaigners.
The United Nations commemorates the anniversary of his death each year.
His influence continues to resonate with El Salvador's youth as the country endures brutal gang violence that has made the Central American nation one of the most violent in the world — an scourge that Francis has frequently lamented.
"He is my guide, and from what I have read about his life, I want to follow in his steps," said Oscar Orellana, a 15-year-old who participated in the San Salvador procession wearing a white tunic like the one Romero used to wear.
'Travel ban on 50 high-profile Nigerians illegal, repressive', says SERAP
Paul VI, on his part, is best known for having presided over the final sessions of the Second Vatican Council, the 1962-65 church meetings that opened up the Catholic Church to the world.
Under his auspices, the church agreed to allow liturgy to be celebrated in the vernacular rather than in Latin and called for greater roles for the laity and improved relations with people of other faiths.
Paul is also remembered for his two most important encyclicals, or teaching documents, that have had a profound effect on the church and Francis: One, "The Progress of Peoples" denounced the mounting inequality between rich and poor, and the other, "Humanae Vitae," reaffirmed the Catholic church's opposition to artificial contraception.
The stark prohibition empowered conservatives but drove progressives away.
Even today it remains one of the most contested and ignored of papal encyclicals, with studies showing that most Catholics use contraception anyway.
Francis was deeply influenced by Paul, who was the pope of his formative years as a young priest in Argentina and was instrumental in giving rise to the Latin American church's "preferential option for the poor."
Francis has styled his papacy on another of Paul's exhortations, and has adopted the "church of the poor" ethos that Paul embodied when he formally renounced wearing the bejeweled papal tiara.
NAN
Subscribe for latest Videos