By Jimitota Onoyume
WARRI- AT least 10 communities between Okpare Waterside and Amukpe Roundabout, Ethiope East Local Government Area, Delta State, have been cut off from other parts of the state as a result of a hazardous botched portion, near Aghalokpe community, on the Federal Government-owned Sapele-Eku Road.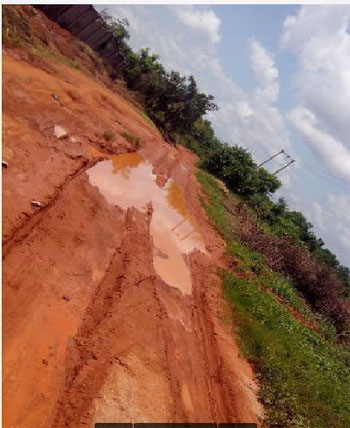 Residents and traders in Okpara Waterside, Igun, Ekpan, Aghalokpe, Otumara, Aragba, Adagbrassa, Ibada, Ovwori, Igbeku and other affected communities have also lamented the huge losses they have suffered, following the  collapse of commerce in markets in the areas over the dilapidated road.
Drivers abandon route
They complained in separate interviews with NDV that commercial vehicle operators have abandoned the route and diverted to Sapele and Abraka, the university community in Ethiope East Local Government Area.
Some of the traders asserted that though the Federal Government had awarded contract for rebuilding of the road, the state government should fix the failed portion in Aghalokpe to revitalise commerce in their communities.
 Inhabitants urge Delta govt to intervene
Veronica, a trader in Aghalokpe, said:  "Construction of the East-West road for example, has been on for over a decade. You see state governments fixing bad spots for use of their citizens. We have had situations where NDDC also intervened to fix Kaiama end of the road when it collapsed.
"These interventions do not in any way alter the contract for construction of the road. They are only minor interventions so that communities around the road can go about their daily businesses. This is what we want the Delta State Government to do. Fix the failed portion around Aghalokpe to save our markets, "she pleaded.
A teacher at a secondary school in Aghalokpe, who did not want his name in print, said: "It is a whole day wait to catch a commercial vehicle from Aghalokpe going to Sapele because almost all of them now go through Warri and Benin to Sapele."
Citizens in pain
A civil servant simply identified as Charles, pleaded: "Government should come and fill the bad spots on the road while the construction company handling the Federal Government project on the road does its job. Citizens of the state are the ones suffering, so the state government should come to our aid even though it is a federal road."
Mr. Emudianughe in Okpara Waterside said:  "It is like we have been cut off from other parts of the state. The communities are just alone here. Our state government should not ignore our communities because we are on a federal road.
 "Yes reconstruction work is ongoing on the road, but it will take time before it is completed. It is like the East-West road project that has been going on for decades. Government should not just leave us to the Federal Government. We are suffering," he stated.
According to him, "We can hardly rush emergency cases from Eku Hospital to Teaching Hospital, Oghara because of bad road."
 Convoluted journey
Another community folk in Aragba, Mr Andrew, said between Abraka, the University town, to Sapele  should not be more than 30 minutes drive through the road,  but because of the bad spot, motorists now go through Warri to Sapele  or Agbor down to Benin before coming to Sapele.
"They spend unusual hours trying to get to Sapele, which would have been 30 minutes on this road.  Because of this failed portion on the road, most vehicles in Abraka prefer to go through Warri to Sapele, or Agbor to Benin and then to Sapele. The bad road is taking its toll on our weekly markets that used to attract people from Warri, Sapele, Abraka and other communities," Andrew said.
He added: We hardly see people buy our wares because you can count vehicles that dare to ply the road in a week. Who will buy the things we usually sell in the market or by the roadside when vehicles do not ply this route anymore?"
Patients die on the road
A medical doctor at the state-owned hospital in Eku, confirmed that some patients referred to the Teaching Hospital in Oghara could not make it because they took longer route to avoid the Eku-Sapele-Oghara road, which would have taken just 40 minutes from Eku.
A lawyer, Mr Gabriel Eyide, blamed a former Senator and a former Minister of Works for the state of the road, noting that the Senator allegedly connived with the Minister to carry out repairs on the road instead of total reconstruction.