BY LUCKY OJI
Chief Mike Adiotomre, is a chieftain of the Peoples Democratic Party, PDP, and the leader of Ward 5, Ovu community and a member of the State Advisory Council from Ethiope East Local Government Area of Delta State.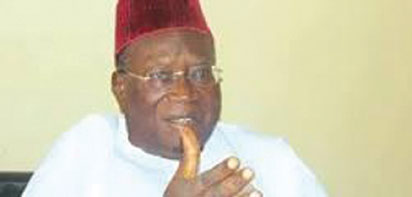 In this interview with Sunday Vanguard, Chief Mike Adiotomre spoke on several issues affecting the polity, the recent National Convention of the party chaired by Governor Ifeanyi  Okowa and the APC administration.
EXCERPTS:
How would you describe PDP national delegates convention ?
Sen. Ifeanyi Okowa has earned a name for himself. I don't know how to describe him. In fact, God is guiding PDP. When he was chairman of the convention committee in the non-elective convention in Abuja, he did it perfectly, he went to Ekiti to conduct the primary, he did a perfect job. In Port-Harcourt again, he made sure that everything went smoothly.
He is a pride to Delta State. My only advice is that greedy politicians should not mislead him, if not his effort so far has given him Mr. upright and l over heard people saying that after his tenure in 2023, he should be appointed INEC chairman, and l know if he is appointed INEC chairman, he will do well too.
Delta APC is said to be waxing stronger to wrest power from PDP, what is your take on this?
You don't prevent people from day-dreaming. I tell you, Oshiomhole, Ogboru and APC people are day dreaming. When l hear them talk about taking over Delta from PDP, where will Ogboru get the votes. First, in the nine local governments in the north, there is no pbody standing for him there again. In Delta south the same thing, in the Itsekiri area, PDP is so strong there, then come to Delta central all the political leaders are supporting Okowa.
Oshiomhole and APC's primary elections
Ibori is supporting Okowa, and all the leaders are supporting him because Okowa has pledged that at the end of his tenure, the governor of the state will move to Delta Central and we are happy about that. I don't know how to describe Oshiomhole,his utterances is making even the APC people unhappy. Buhari's wife is already unhappy with him, so they are not coming here.
What are the chances of the incumbent governor to win 2019  election in Delta?
There is no need to dwell much on this subject but I can only give Okowa 85%, no shaking. Okowa is winning the State comfortably. During my birthday celebration, after Okowa and Ibori had spoken, I promised Okowa that votes in the eight local government areas of Delta central shall go for Okowa and that still stands. You are going to be surprised by the level of support from Urhobo for Okowa come and that cannot give him the votes to become the president, do you agree to that view?
The question l have expected you to ask, is if Buhari is popular in the North as he claims, is the North not part of Nigeria? All the elders, leaders, men, women and youths in the North have all rejected Buhari, because there is extreme poverty mostly in the Northern part. The poverty in the north is highest, so from where do they get their argument that Atiku is not popular in the north.
If he is not popular in the north, how did he get the delegates that voted for him, because he got more than 50% of the entire votes of the delegates at the convention, were those delegates only from South-South and South East alone? What of South West, Atiku is also very popular in the South West because of his interest for restructuring and that is the yearning of Nigerians and that has made him even more popular in all the geo-political zones of the country.
What do you mean by saying there is nothing to write home about Buhari administration, do you now say Buhari has not performed to give him second tenure?
Let us first talk about his security agenda and let's x-ray what happened at the middle belt, can the middle belt say anything good about Buhari? What has he done in Benue State and Adamawa, is Buhari popular in those parts of the country, of course not. A president who vows to secure his country, only to be heard saying that some people from Libya had come to cause crisis in Nigeria, so what is he doing as a president? With this you can say the man has failed Nigerians with all the promises he made.
On corruption, what has he achieved over three and half years he has been the president of the country. How has he eradicated corruption, he has only succeeded in destroying the economy of this country and we are still clamouring for his come back, to do what, destroy the country more or cause more damage and disunity.
We all aware of the former Secretary of the Federal Government and how he was indicted in the grass cutting contract scandal, how did it go after much pressure, he was asked to resign without being prosecuted. Is this the government you say that is fighting corruption? His anti-corruption war is an an instrument to victimize his opponents and that also he has failed. And this has also been confirmed by Amnesty International that Buhari's government is the most corrupt administration since Nigeria embrace democracy.
On development, what have you seen on ground that you will sing about that Buhari has done, just nothing. You cannot even leave Lagos to Badagry or Shagamu because all the roads are bad. PDP was busy repairing Lagos Ibadan road before they told their lies and took over the government. See Warri, Benin-Lagos roads with grasses all over the road.
The national chairman of the All Progress Congress, APC, Comrade Adams Oshiomhole, has vowed to take over Delta State come 2019, what is your take on this?
Oshiomhole should go and resolve his personal issues with APC, he is giving an open threat. What is Oshiomole doing in Delta State? Nothing, all the people are defecting from APC for other parties. Did you hear what Victor Ochei and Pat Utomi said, is it only Ogboru who has been a serial contestant  that will deliver Delta for Oshiomhole and APC. The last general election of 2015, Okowa defeated Ogboru in Urhobo areas where he made his propaganda.  Okowa has four LGs and Ogboru has four LGs in Urhobo too but the general votes were in favour of Okowa from Delta Central.
And if you have heard you will know there is an agitation by nine governors of the party calling for Oshiomhole's removal as the national chairman of the party in a recent discussion with President Buhari. The crisis in APC today is much that they are just mending and mending, because when you build something on nothing the answer you get is nothing. The President's wife, Aisha Buhari had also expressed her displeasure with the happenings in the party, so the empty boast of Oshiomhole cannot take him anywhere.
Are you saying former President Goodluck Jonathan's administration was better off to this Buhari's administration?
Yes, no comparison or have you been able to trace the wealth of Jonathan to anybody? Buhari's administration is the worse. He drove Alhaji Shagari from government on the ground of corruption, that innocent statesman. Where is the wealth of Shagari. But Buhari and his wife are amassing wealth. PDP has taken the right decision because a lot of people had thought the convention was not going to succeed.
The outcome took people by surprise that PDP was able to organize a free and fair primary and the convention produced a sound candidate. A contest where all those who did not win congratulated the winner, Atiku, shows PDP is set to wrest power from the APC.
There is this perception that APC will win the presidency same way it won Ekiti and Osun states, what is your take on this?
I doubt that. The Ekiti and Osun elections were rigged and we all know that but let's wait for the outcome of the court, but in this general elections, let's see how they will get thirty thousand policemen to deploy to every state, we are waiting but l know PDP won the election and the purported concealed elections in seven units, where PDP members were prevented from voting.