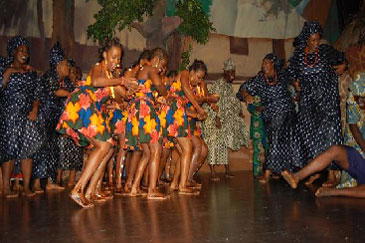 Fidel Madonna college of excellence performing at the festival. Photo: Prisca Sam-Duru
By Vera Anyagafu
To celebrate the United Kingdom's dynamic, forward-looking partnerships with Nigeria and some Commonwealth Nations, the Prince of Wales and the Duchess of Cornwall will both visit Nigeria, Gambia and Ghana.
Presidency: It'll be Ndigbo's turn in 2023, Buhari support group replies Fashola
In advance of visit, The Royal Highnesses hosted notable British West Africans at a reception at St James's Palace, where they met with many British Nigerian performers, business people and YouTube stars, noting that Nigeria and the UK share a long and historic relationship, with an estimated 200,000 Nigerians currently living in the UK.
Guests at the Pre-African tour reception included rapper Tinie Tempah and YouTube star, Patricia Bright, who are also Ambassadors for The Prince's Trust, one of The Prince of Wales's biggest charities.
Please don't let us die, we are also part of society – Inmates of Minna Leprosarium
While entertainment for the reception was provided by Dele Sosimi and the Afrobeats Orchestra, The home of Afrobeats, it was detailed that during the Royal Highnesses visit to Nigeria come next month, The Prince will attend a British Council arts festival to celebrate Nigeria's thriving arts scene and mark the 75th anniversary of the British Council in Nigeria.
According to Tempah, whose real name is Patrick Okogwu and is of Nigerian descent, Nigeria has a huge amount to offer in the way of arts and culture. "I think the West African Diaspora has played a very pivotal role in the growth and development of Britain over the past 50 years to even longer."
It's nice we can have this direct one-on-one conversation with The Prince and Duchess to be able to tell them our experience and, more importantly, to tell them how amazing Africa is.
"West Africa especially is the place to be right now in terms of culture, in terms of music, in terms of fashion, in terms of art. I can't get enough of it, as a British-born young man I'm spending a lot of my time in Nigeria at the moment", he added.
Names like Uche-Okeke, Twins Seven-Seven and, Ben Enwonwu to mention a few, have redefined the contemporary Nigerian art scene and during the visit, The Prince of Wales will view the great Bronze statue of Queen Elizabeth II sculptured by Ben Enwonwu in 1956.
However, it was noted that from Chinua Achebe to Chimamanda Ngozi Adichie, Nigeria's literature scene is gaining recognition, even as Nollywood is rated 2nd largest film industry.
The talent did not stop there as Nigeria is said to have also exported some of their most talented footballers to the UK's Premier League and enjoyed successes at the Commonwealth Games winning a total of 236 medals.