By Soni Daniel & Adekunle Aliyu
ABUJA — THERE were indications last night that detained former governor of Ekiti State, Mr. Ayodele Fayose, had begun opening up on the allegations of corruption brought up against him by the Economic and Financial Crimes Commission, EFCC, which took him into its custody on Tuesday.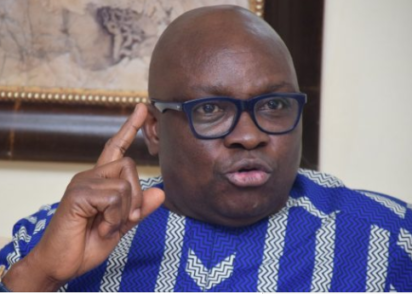 Fayose, according to reliable sources within the commission, started responding to the issues put to him by his interrogators on Thursday, a day after EFCC secured a court warrant to detain him up to 14 more days.
This came as his lawyer and human rights activist, Mike Ozekhome, hinted on Thursday that the former governor's legal team had begun moves to get him out of the EFCC custody.
The EFCC, which started following Fayose's financial transactions more than two years ago, accused him of receiving N1.3 billion from the Office of the former National Security Adviser, Col, Sambo Dasuki (retd) and laundering the cash on choice property in Lagos and Abuja and receiving kickbacks from contractors.
But since arriving the EFCC interrogation centre, sources hinted that Fayose rebuffed all attempts by the security operatives to talk, forcing the agency to approach a court to obtain a detention warrant to keep in beyond 24 hours.
A source in EFCC told Vanguard last night that Fayose had started talking to the operatives of the commission but did not say in which area the former governor responded.
The official said: "Fayose has surprisingly begun talking and we hope he can open up on all the issues we are putting to him relating to the ONSA cash of N1.3 billion and the issue of alleged kickbacks from contractors."
We're trying to secure his release — Ozekhome
However, Fayose's lawyer, Mike Ozekhome, SAN, said concerted efforts are in top gear to secure the former governor's release EFCC custody.
Mr Ozekhome said: "Fayose's lawyers are already taking steps to enforce his fundamental human rights by getting him released.
"Yes, his lawyers will go to court to enforce his fundamental human rights.
"The EFCC has no right to keep him beyond 24 hours.
"If they have done that by obtaining a Magistrate Court's Order that will be in the form of holding charge which has been declared unconstitutional and illegal by the Supreme Court. Holding charge is illegal. It is unconstitutional.''
Fayose challenges EFCC over audio recording
Meanwhile, Mr. Fayose has alerted members of the public of an audio recording conversation currently circulating in the social media in which the EFCC acting chairman, Ibrahim Magu boasted that nothing will happen should he die in their cell, saying that nothing should happen to him.
Fayose, who reacted through his Chief Press Secretary, Idowu Adelusi, said he was baffled by the conversation and by the plot to eliminate him because of his opposition to the misrule of the President Muhammadu Buhari wondered why his punishment should be death.
EFCC refutes fake tape
However, in a statement by its Head, Media and Publicity, Mr. Wilson Uwujaren urged Nigerians to disregard the purported audio recording  in which the Acting Chairman of the Commission, Ibrahim Magu, purportedly made comments to the effect that, "nothing will happen peradventure Ayo Fayose dies in custody. The audio recording is fake as the comments did not emanate from the Chairman of the EFCC."