By Chinonso Alozie, Owerri
The Coordinator of National Emergency Management Agency, of Imo and Abia operations, Mr Evans Ugoh, Monday said the need has come to look into the maintainace of oil pipelines in Nigeria.
Ugoh spoke to newsmen in Owerri, following the recent explosion of pipelines in Abia state, which reportedly killed scores of residents.
The NEMA, boss was not happy that the host communities could not report incident of pipeline leakages.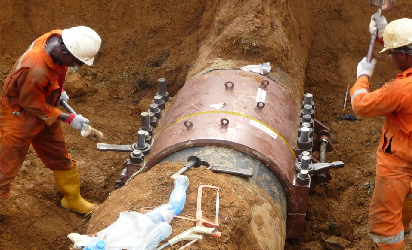 He also called on the Nigeria National Petroleum Corporation, NNPC, to strengthen security surveillance on the oil pipelines in the country.
However, Ugoh enjoined the authorities concerned to partner with professionals in disaster management and protection of pipelines in the country.
He said: "My team has visited the scene of the explosion and we discovered that victims of the incident took advantage of the pipeline leakage and were scooping the oil before fire caught on them.
"I also blamed the victims who noticed the leakage but rather than raising alarm, they decided to steal the fuel which eventually led to their death.
https://www.vanguardngr.com/2018/10/allow-votes-to-count-in-2019-editors-charge-inec/
"There should be a routine maintenance of all pipelines and also urged NNPC to beef up security in oil pipelines.
"A uniform disaster management strategy by oil companies and NNPC and to come up with best practices on disaster management.
"Oil stakeholders should also engage services of professionals and to sponsor research for disaster management strategies for oil pipeline."
https://www.vanguardngr.com/2018/10/just-in-nnpc-blames-vandals-for-aba-oil-pipeline-fire/
Subscribe for latest Videos