By Ayo Onikoyi
The city of Abeokuta, on October 1,  witnessed the mother of all comedy events as Gbenga Adeyinka the first and premium Malt drink, Maltina thrilled fun seekers with LaffMattazz.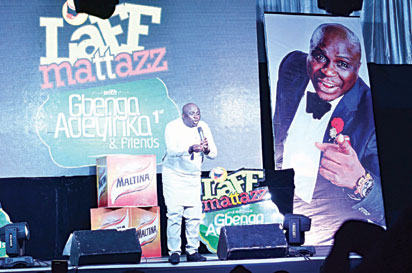 The event which was tagged "Loud In Abeokuta II, Independence Invasion"   held at the Marque, Olusegun Obasanjo Presidential Library, Abeokuta and it witnessed the presence of important personalities like Her Excellency the First Lady of Ogun State, Mrs Olufunso Amosun   as well as A-list actors, music artistes and comedians.
Gbenga Adeyinka definitely pulled out all the stops on this one to show why he is called the CFR (Comedian of the Federal Republic) and the GCON (Grand Comedian of Nigeria). His performances were supported by other top comedians who took the stage to make fans enjoy themselves to the fullest. Comedians who rocked the show include, Helen Paul aka Tatafo, Slkomedy, and more.
Nigeria at 58: Stanel CEO, Uzochukwu delivers lecture in Sunderland University
The amazing comedians ensured happiness at its peak for fans. LaffMattazz lovers in Abeokuta were also treated with world class musical performances by superstar entertainers such as Slimcase, CDQ, Destiny Boy, Jaywon, Faze, amongst others.
Premium malt drink, Maltina, fulfilled its promise of sharing happiness by delivering entertainment to the people of Abeokuta through fun games, lucky dips, spinning the wheel, where lucky consumers got the chance to win exciting prizes like mobile phones, generator, TV, Standing Fan, Maltina goody bags, and other mouth-watering prizes.
One of the lucky winners who walked away with a brand new LED TV said: "I honestly didn't expect it! I'm so excited to have won this TV, and I can't wait to go home and tell my family. Thank you, Maltina for the opportunity".
Lagos to host biannual Africa Fintech summit in November 
Speaking on the event, Senior Brand Manager, Maltina, Omotunde Adenusi, said:  "We're always excited to be part of Gbenga Adeyinka's Laffmattazz, as it is a show that aligns with the brand's commitment towards sharing unending happy moments amongst families and friends across Nigeria, we look forward to being a part of this initiative next year"
The event was lit from the beginning to the end!   It was a perfect way to start the week and to celebrate Independence day, thanks to Maltina.
Subscribe for latest Videos