By Banji Ojewale
You would not be quite right to condemn Journalist Kayode Adedire, the author of This Retirement, (a book published by Johnsprint Nig. Limited, Ibadan) for the venom he spews out in this work.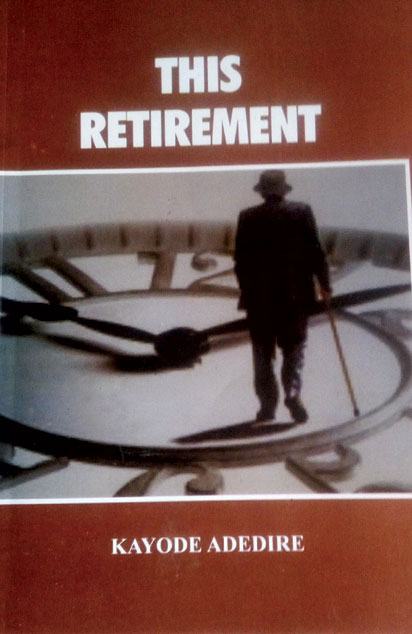 Anger, despair and bitterness leap at you from almost every page to dramatise his days in the valley of retirement at the young age of 48. If 60 years is what the statutes prescribe, there must be something sinister when a civil servant younger than that is thrown out in the name of compulsory retirement.
Adedire had, in the 70s, worked at the old WNTV-WNBS, Ibadan, that became NTA, Ibadan. At the creation of Oyo, he moved to the new Television Service of Oyo State, transferring his service later to Osun Broadcasting Corporation-Television, where the retrenchment gale hit him on January 10, 2000. Cumulatively, Adedire had put in about 26 and a half years of pensionable service out of the 35 required to qualify one. There was something more distressing, according to the author, a widely travelled newsman.
Leadway Assurance, PricewaterhouseCoopers to enlighten public on FG's tax policy
He writes: ''In addition, my age at the time of my retrenchment was just 48 years. 60 years is the statutory age of retirement. The point I am making here is that either by length of service or by age, it was too early for me to leave the service, all things being equal.''
Deep grief and shock set in, naturally. A dark pall fell on Adedire to shatter his age-long desire ''not to look for any greener pasture but to pursue and end my career where I was. It was all about attracting to me good pension and gratuity at the end of the day.''
When a man so committed and sold to total service to his country is given a raw deal at the hands of a literal father, as it were, you expect nothing less than a revolt, even from the most complacent or docile servant or child.
This came in two ways. First, Adedire protested by refusing to collect the payout calculated by the government. It was a rare and principled stand for a man with a large family, whose only source of income was the wages he was paid as the director of news. For nearly four years, he and his household fed on the generosity of friends in and outside Osogbo.
Edo targets $70bn global lottery industry, as EIRS launches Edo Lottery, promises jobs
Next, he took the Osun Government to court to challenge his disengagement from the media house it owned. Here again, the author secured moral, legal and financial help to prosecute the battle from friends who believed in the justness of his struggle for fair play.
He terminated the litigation when a new governor emerged after the 2003 poll in Osun. Adedire and others were reabsorbed as promised by the politicians during their election campaign. One of the conditions to satisfy for their return was that one must not have collected one's gratuity. Another was that one was not drawing one's pension. None of these traps ensnared Adedire.
The author went on to complete his statutory number of years in service to earn him the full complement of retirement.
The struggle continues after retirement
But life in retirement, as Adedire relates in this book, had its own unpleasant twists. He had this idyllic prospect: ''What I expected of the retiree is to live the rest of his or her life without any stress; just eat, sleep, wake up and do minor exercises to keep body and soul active.''
But Adedire never found that paradise. He fell for repeated suggestions that he was too 'young' to quit active work, even if government had so decreed. He was advised to look for extra revenue. So he toyed with and indeed settled for a couple of businesses: barbershop, hairdressing, carwash, retail trade, ice block venture etc. Later, he was talked into network marketing of a product. But alas, failure dogged his steps.
He went back to paid employment with a private radio station, his rich experience in the industry being much sought after. It was a contract deal. But intrigues of power tussle and partisan politics would not allow Adedire, a man given to a culture of professional integrity, to last there.
Reflecting on these travails in retirement, Adedire asserts that one reason for sorrowful losses incurred by pensioners is that ''they had no managerial knowledge.'' Another is that most of these retirees ''cannot boast of any vocational training.''
APC chieftain tasks govt on use of Sapele timber firm
This Retirement clearly has a word for both the handlers of retirees in the public and public sectors. There must not only be prompt payment of retirement benefits, but also ahead of their exit, they should be exposed to seminars on viable businesses that suit their takeaway.
Others are dismissing these propositions altogether and asking this question: must retirees go into business in their twilight years?
Either way, Kayode Adedire's This Retirement represents a pensive intervention in the endless national conversation over first, how not to treat our pensioners and secondly, how they also must not treat themselves. The book effectively demystifies regnant notions of the society's stand on pensioners and calls for a radical review to offer a humane template.
The book, however, is blighted by a train of typographical errors, a pack of poorly knitted sheaves, and a riotous run of repetitive pages.