By Chris Ochayi
ABUJA – Labour Party, LP, has insisted that candidates who have the confidence of Nigerian voters would secure victory at the polls in the forthcoming general election.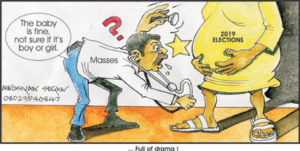 The Party's Director of Publicity and Media Strategy, Yinka Richards in a statement Friday in Abuja, re-emphasised its position that Nigerian electorates must be given the opportunity to elect candidates that could only pass the integrity test in 2019 general elections.
''Labour Party cannot be simplistic and attempt to wish away the issue of right candidates seeking elective positions at all levels, particularly as 2019 approaches''.
Richards also said Labour Party would enjoy the support of Nigerian voters at the polls owing to the fact that the candidates of the party are more qualified and credible.
Speaking on the chances of the party, he said Labour party has forwarded names of its candidates and the chances are high in many states of the federation where those candidates are widely accepted by their people.
He said states like Kwara, Akwa-ibom, Imo, Ogun , Delta, Benue, Abuja FCT, Abia, Enugu, Edo, Oyo, Anambra and Osun have already fielded influential candidates flying the party's flag.
The Director of Publicity and Media Strategy, urged Nigerians to be sensitive in their dealings with some political job seekers who want to batter the image of the Labour Party as they sieze to be members of the party.
According to him, ''Labour Party is fully prepared for 2019 general elections and we want to urge Nigerian voters to distance themselves from some disgruntled politicians who lay claim to the leadership of the party.
"For instance, one Mike Omotosho who claimed to be the National Chairman of the party is a member of the APC and he is the deputy governorship candidate of the party in Kwara state. So, how on earth will a politician belong to two political parties at a time? Those types of people cannot be trusted. They are neither here nor there''.
The Director of Publicity and Media Strategy, said Mike Omotosho is never a member of the Labour party due to his support for a governorship candidate who lost out in the just concluded APC Primaries in Kwara state which earned him the deputy governorship slot offered by the elected candidate of the APC.
He also accused Omotosho and his team especially in Ilorin West of anti-party activities and warned Nigerians to disregard any claim of leadership of the party by him as Nigerians would ascertain this claim when the names of candidates are published by INEC.