…As party vows to clinch 8 gov, seats
By Chris Ochayi
A retired army officer, Major General John Gbor, yesterday, picked the presidential ticket of the All Progressives Grand Alliance, APGA, for the February 2019 presidential poll.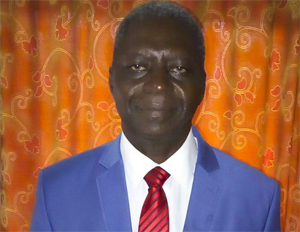 Maj. Gen. Gbor who was a sole presidential aspirant of the party has his nomination and that of his Vice Presidential aspirant, Chief Jerry Chukwueke affirmed through unanimous voice vote by the National Woking Committee, NWC, and delegates at the special convention and presidential primaries held at Barcelona hotel, Wuse II, Abuja.
The All Progressives Grand Alliance, APGA is fielding a presidential torchbearer or the first time in the last ten years with the emergence of Maj. Gen. Gbor.
Speaking shortly before the exercise, the National chairman of APGA, Dr. Victor Oye, said the party's profile was waxing stronger by days, making it the third largest party in the country after the All Progressives Congress, APC. And the Peoples Democratic Party, PDP.
Oye predicted that the APGA would soon take over from the ruling APC and the main opposition PDP, because both political parties are currently riddled with crisis, which he said would soon take them to oblivion.
The chairman while giving appraisal of APGA said the fortune of the party was very bright, noting that "APGA will produce governors in 8 states out the 36 of the federation come next year's general elections.
He named the states the party is hopeful of clinching governorship seats to include, Nasarawa, Enugu, Imo, Abia, Zamfara states and others. He added that the party will spring surprises in the nation's political environment soon.
While enjoining the party members to work tirelessly towards the emancipation of the APGA, Oye charged, "We should jointly make sacrifice for the growth and development of our great party.
"APGA is well repositioned to spring surprises in the future elections. You will recall that 2015 general elections, our victories were stolen in Abia and Nasarawa states governorship polls.
In acceptance speech, the APGA presidential torchbearer, Maj. Gen. Gbor promised to reunite the people of the country, whom he said are more divided that ever before if elected president.
He also vowed to put into bear his military experience to end the perennial clash between the Fulani herdsmen and the framers, which of recently resulted in deaths of innocent Nigerians.
Gen. Gboh, who unveiled a five pointy agenda with whcioh he promised to transforem the nation, said he will return the nation to practice true federalism, with each federating unit controlling its resoiurces.