A female cleric, Esther Ajayi, on Wednesday appealed to politicians to place service to the country above themselves.
Ajayi, who is also the promoter of Esther Ajayi Foundation, made the call in an interview with the News Agency of Nigeria (NAN) on Wednesday.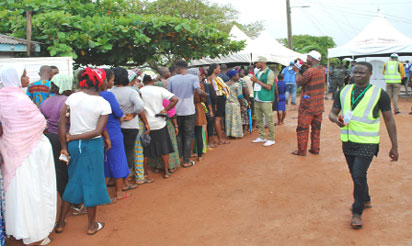 She admonished Nigerians against electoral violence during the forthcoming general elections and urged them to participate in the election by voting for candidates of their choice.
Canadians rush to buy Marijuana, stores run out
She further urged Nigerians to devote much time for prayers to God to help the country to navigate through every storm.
"We must continue in prayers. Prayer is our only option; the Bible says we should watch and pray.
"Let's come out at the scheduled date to exercise your franchise; vote and wait to see that your vote is counted.
"We are not partisan; but we are under the political system as stakeholders."
While expressing concern over what she called worrisome statements by some politicians and their supporters, Ajayi stressed that the political class should eschew violence in the overall interest of the country.
"I encourage all to play the game according to the rule. Maiming and killing or destruction of lives and property will not solve any problem; rather, explore the legal means," she advised.
Look closer! The 2019 presidential election is not a two-horse race
The cleric, who is also the General Overseer, Love of Christ (LOC) Generation Church, Ajayi said that Nigerians needed to stay united, if the nation must be productive.
Newsmen report that Ajayi was recently honoured by the Eternal Sacred Order and all the White Garment churches alongside other significant icons in Abuja, for her outstanding dedication to God's work, promoting care and humanity in communities across the nation.
NAN
Subscribe for latest Videos