By Dirisu Yakubu
A group loyal to the Presidential aspiration of the Peoples Democratic Party, PDP candidate, Alhaji Atiku Abubakar, the Atikulating a New Nigeria Movement, has said that the flagbearer will not outsource his presidential power to surrogates, neither would he allowed his government to be hijacked by a cabal if elected President in 2019.
National Coordinator of the movement, Chukwuma Chiboka disclosed this Tuesday while addressing a press conference in Abuja.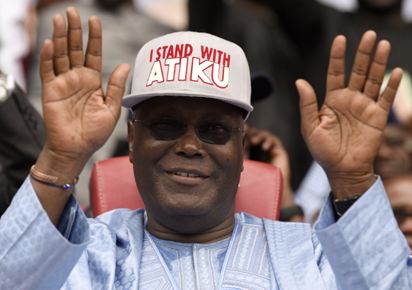 According to him, the nation has in the past three and a half years under the All Progressives Congress, APC-led administration, recorded tales of woes and despondency, as well as mismanagement of the economy that led to economic recession.
https://www.vanguardngr.com/2018/10/neymar-will-not-return-to-barca-bartomeu/
"Atiku will display frontline leadership and would not outsource his Presidential powers to surrogates. President Olusegun Obasanjo and Atiku Abubakar had the best economic team; taking Nigeria out of debt quagmire, however, the present administration of Muhammadu Buhari has chosen to drive Nigeria deeper into debt, locally and internationally hence enslaving the young and unborn generation," he stated.
He tasked Nigerians to query the logic in electing President Buhari in 2019, saying, "If we may ask, what has this administration done right? They claim they have put infrastructures, where are the infrastructures? What are the effects of the so called infrastructure on our Gross Domestic Product, GDP?
"The truth is Nigerians are dying; the health sector is in shambles and education in doldrums. Suffice to say that a President who believes that women should be in "za oza room" and who refers to resilient, intelligent and hard working young Nigerians as lazy is an embarrassment to conscience, logic and reason."
He added that President Buhari must be told to either sack himself or wait to be voted out.
In his words, "Nigeria and Nigerians deserve to catch up with other advanced economies and not be running in a political treadmill or frolicking in a swivel chair like the pathetic and Humpty Dumpty administration they want want us to celebrate."
https://www.vanguardngr.com/2018/10/claim-dss-aided-nnamdi-kanus-escape-fake-news-spokesman/