By Dapo Akinrefon
LAGOS—THE Aare Onakakanfo of Yorubaland, Iba Gani Adams has explained the reasons for promoting Yoruba language, saying the struggle to promote the language has started in earnest.
Speaking in Lagos during the Yoruba Quiz Competition organised as part of activities for the ongoing Olokun Festival, Aare Adams said: "Yoruba Language is not vernacular, therefore, anybody that loses his or her language and tradition is in bondage and it is dangerous for the future. We have done a lot of injustice to the Yoruba Language, and that has affected us seriously, particularly, in the way we relate with the rest of the world.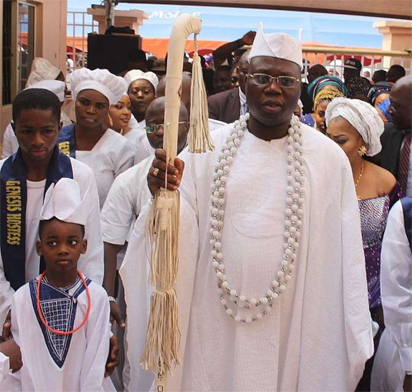 "I am always worried by the way we handle the language, however, we need to encourage the use of Yoruba Language in our homes and the schools, especially, from the primary, secondary and to the tertiary institutions. We can easily catch them young when their brain is still young. I am a living witness to the struggle involving cultural evangelism. The glory we are celebrating today is the gain of what we did more than 15 years ago."
Aare Adams lamented that government, at all levels, have been reluctant in sponsoring cultural events and festivals, adding that all the cultural activities, including festivals are being funded by the Oodua Peoples Congress, OPC, adding that his new status has helped the various organisations under his leadership.
His words: "Apart from Osun Osogbo festival and Eyo, Olokun Festival remains the most celebrated festival in the country. The just concluded Twins Festival in Igbo Ora, Oyo state, where about 2000 twins were celebrated was a good development which must be encouraged.
"In China, 75 percent of their programme is on cultural promotion, with population of about 1.6billion people promoting their cultural identity. The British, French, Arabs, Dutch and the Portuguese will never toy with their languages and heritage .They spend a lot of money in promoting their languages. I am happy with the initiative as promoted by our foundation and I pray that the children will be good ambassadors of the Yoruba race and Nigeria as a whole."
In her remarks, Chairman of the Akomolede Yoruba in Lagos state, Mrs. Zainab Olaitan, expressed appreciation to Olokun Festival Foundation, saying efforts are on to change the wrong perception people have about the Yoruba Language.
Olaitan said: It is our responsibility to promote our Language as it is done in the developed world. Let us promote our language by the way we talk and dress. Let us promote our culture and tradition by all means that is possible."
Also speaking, the Deputy Director, education District 6, Lagos Ministry of Education, Mr. Legbeti Paul, said the state government was doing everything to promote indigenous Languages.
https://www.vanguardngr.com/2018/10/why-igbo-place-premium-on-new-yam-festival-ubani/