By Abdulmumin Murtala
Senator Rabiu Musa Kwankwaso, leader of the Kwankwasiyya political Movement has dismissed insinuations of nepotism over his choice of his relative Abba Kabiru Yusuf, as the Peoples Democratic Party, PDP governorship candidate saying, "he is not my direct son-in-law".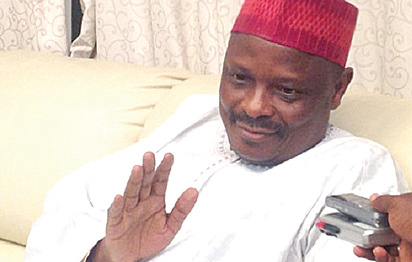 In an interview monitored on the BBC Hausa service on Tuesday, Kwankwaso explained that the selection was made to avoid a repetition of what happened during the last dispensation where the Kano Kwankwasiyya movement backed Dr. Abdullahi Ganduje being the most senior in age, qualification and other services records to become governor only for the governor to in his words "betray them and stab" them in the back.
He explained that those accusing him of selecting his in-law are only mischievous as Abba is not the husband of the daughter he gave birth to but the husband to a member of his extended family. He said he comes from a very large and extended family where anyone of them can meet and get married to anyone they meet anywhere and will not be refused.
"You cannot stop anyone from marrying from your extended family because of your own personal interest" he stated.
He added that "It is also illogical to say that you would refuse to appoint or select a qualified person for any position simply because he is married from your extended family. What should be avoided is basing such selection or appointment on personal whims and sentiments. What is important is for everyone to acknowledge his qualification and ability to deliver".
https://www.vanguardngr.com/2018/09/i-will-support-any-aspirant-that-wins-pdp-presidential-ticket-sen-mark/
He also explained his reasons for not anointing the former Kano deputy governor, Prof Hafiz Abubakar, and a prominent politician in the state Alhaji Sagir Takai. Hae said he had known Prof Hafiz for over 40 years and has assisted him wherever necessary.
Subscribe for latest Videos