Umuahia – The Senate President, Dr Bukola Saraki, on Friday in Umuahia urged Nigerians to make informed decisions during the election season, to ensure that Nigeria is put in the right direction.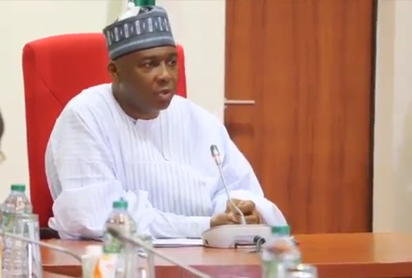 Saraki spoke when he paid Gov. Okezie Ikpeazu of Abia a visit to seek the support of People's Democratic Party (PDP) stalwarts in the state towards his political aspiration.
He said that decisions on whom to vote for ought to be based on merit.
"We are in a time when we owe it to ourselves and the future generations that we do the right thing.
"Let us elect a leader that has capacity, knows issues and knows how to make Nigeria better.
"A president that represents all Nigeria; in whom everybody will feel a sense of belonging, because today, we know the country is very divided," Saraki said.
He said that Nigeria required a youthful leader with capacity and vision, who would be able to harness the potential of the nation and attract socioeconomic development.
Responding, Gov. Okezie Ikpeazu of Abia said that the nation's fledgling democracy required one who had experience on all flanks in the business of governance.
"We will queue behind Nigeria to ensure that all of us will grow together; Abia is not going to be left behind in any way.
"We share in your aspirations and pray that we will get to the point where we would be among comity of respectable nations in the world," he said.(NAN)
Subscribe for latest Videos