…Pledges to restore security if elected
By Dirisu Yakubu
ABUJA- Former governor of Kaduna state and Presidential aspirant on the platform of the Peoples Democratic Party (PDP), Senator Ahmed Makarfi has urged the party to realize that it is up against the antics of "Drowning men," as the preparations for the 2019 elections intensify.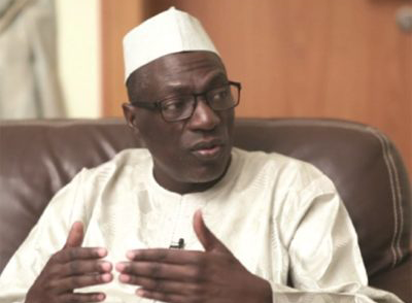 Makarfi who was at the party secretariat Friday to submit his Expression of Interest and Nomination Forms to seek the ticket of the PDP to contest the 2019 Presidential election was reacting to Thursday fracas involving supporters of the PDP and the ruling party.
The Presidential hopeful tasked party delegates to prioritise experience and competence for the job in determining who picks the ticket, stressing that as governor of Kaduna state, he tackled the security challenges and restored normalcy across all parts of the state. He promised to replicate the feat if given the mandate to preside over the affairs of the nation as President.
"If you give a drowning man a sword, he will hold on to it. We are dealing with drowning men and we should understand and see them as such. We must never loss focus to wrest power from the APC. They may use whatever they want to use, but let use our brains.
"I will begin by sympathizing with PDP men and women on the attack on democracy yesterday, when we were assaulted by the APC thugs. This has never happened before, for a party to leave its domain to another party's headquarters and do what they did.
"But no matter how they try, they will not succeed. Intimidation will not work because we know the APC is left with no option other than intimidation. When you are losing, whatever you see, you grab," he said.
The former chairman, National Caretaker Committee of the PDP also took a swipe at the ruling party, saying "Up till now, they are still quarrelling over what type of primary to hold."
That said, Makarfi moved on to clarify the mileage of his aspiration and what sets him apart from the rest of other aspirants.
"It is important for me to say that I am qualified, like every other aspirant. There is none of us that has indicated interest that is not qualified. Though all fingers are useful, they are equally not equal. There is no finger that is not useful, but there is no finger that is equal to another.
"I want to believe that when the needful is done, party men and women will decide wisely. And whatever the delegates decide, as a loyal party man, I will accept the result. I will work for the interest of the party, to make sure that we return to power," he added
Makarfi further reiterated his commitment to restructuring just as he emphasized the need to secure the nation and her citizens.
"We believe in restructuring in the interest of all. Nigeria needs to be secured as there is too much bloodletting in the country today. We must restore sanity, and stop these killings," he noted, adding that "It is not possible for these killings to be going on, without one form of collusion or the other."
Why Nigerians should vote for me
"If I happened to be nominated and elected, as I have history to have restored peace in Kaduna, that will also be replicated across the length and breadth of Nigeria. This is not theory, but practical because we have done it before.
"I have spoken on the policy that our children must never leave school because of financial difficulties. We will introduce students' soft loan, where students facing financial difficulties can borrow and they will only pay when they are permanently and gainfully employed.
"This will force the government to create job opportunities for our teeming youths so they can get the money refunded.
"I have also spoken on power generation. We are running a unitary system, where whatever is generated is domiciled in one place and then redistributed. When you are generating, you lose power, when you are distributing, you lose power, anything that happen at any point, the whole country goes into darkness but this must stop.
"We will explore God-given natural resources to satisfy any area of Nigeria with uninterrupted power. We must do so and we will do so under my leadership, so that within a short period of time , the entire country can have power for 24 hours."
Meanwhile, former National Organizing Secretary of the PDP, Senator Abdul Ningi, yesterday submitted his nomination forms to contest the governorship election in Bauchi State.
Ningi who spent a total of 16 years at the National Assembly promised to bring smiles to the faces of his people just as he berated the APC government in the state for performing "below expectation."
"The state (Bauchi) has derailed especially in the last three and half years. Bauchi has become like a cursed state and if things continue to be the way they are, in the next couple of years, I don't know how we are going to describe Bauchi," he said.
He described his aspiration as "My obligation and resolve to ensure that Bauchi story changes. I want to add value to the state and make sure it becomes one of the front line states in terms of development."