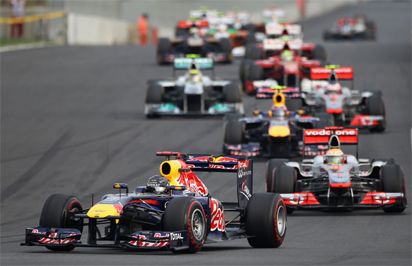 formula one
formula one
Sebastian Vettel outpaced championship-leading title rival Lewis Hamilton by just eight-hundredths of a second to keep Ferrari on top in Saturday's third free practice for Sunday's Italian Grand Prix.
The four-time champion German clocked a best lap in one minute and 20.509 in improving weather, after overnight rain, to finish ahead of Hamilton's Mercedes by 0.081 seconds.
Kimi Raikkonen was third in the second Ferrari ahead of fellow-Finn Valtteri Bottas in the second Mercedes, the top four dominating the action as the sun attempted to break through an overcast sky at the historic Autodromo Nazionale Monza.
On Friday the two Ferraris had been fastest, followed by Hamilton and Bottas.
Max Verstappen was fifth for Red Bull, eight-tenths off the pace, ahead of Kevin Magnussen of Haas, Esteban Ocon of Force India and Daniel Ricciardo in the second Red Bull.
Charles Leclerc was ninth for Sauber, following their fraught Friday, when Marcus Ericsson survived a huge high-speed crash in second practice, ahead of Romain Grosjean in the second Haas.
Ericsson –- in a new car built overnight — gave a fearless demonstration by that he had suffered no lasting ill-effects.
Because the engine in the Swede's car is his fourth this season, he will be penalised 10 places on Sunday's grid. The regulation limit is three in a season.
On a rapidly-drying circuit, the usual suspects took control. It was soon clear that the main contest was the battle between Ferrari and Mercedes, with Vettel and Hamilton leading the way.
Raikkonen set several early fastest laps before his team-mate took over and then Hamilton, pushing his limits, usurped them both.
The Briton often skimmed the gravel at the exit of the second chicane as he braked as late as possible in pursuit of the flying German's faster lap.
AFP