By Ayo Onikoyi
After his epic open letters to President Mohammadu Buhari, Alhaji Abubakar Atiku, Rochas Okorocha, Delta State-born humour merchant and social commentator, I Go Dye, born Francis Agoda, has written yet another letter. This time, it is addressed to erstwhile governor of Delta State, Emmanuel Udughan, chiding him not to go to the senate as he had failed his people when he was the governor of Delta State for 8 years.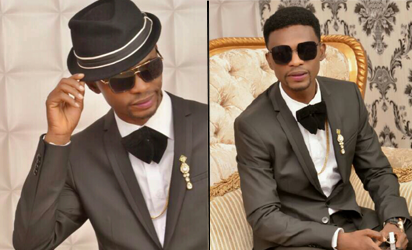 I Go Dye pointed out in the letter made available to Vanguard that if the former governor had failed to build any substantial legacy for Deltans as governor for eight years with the monstrous budget he had as governor, much less can only be expected of him as a senator with a paltry budget. He said instead of him nursing the senatorial ambition he should be advocating for a younger candidate and sit back as an elder-statesman and agitate for the re-opening of sea ports across Niger Delta.
Excerpts of the letter: " In my civil quest to change and advocate for what is right,charity must begin at home. In reflection of what should be ideal, Ex -Governor Dr Emmanuel Uduaghan should be advocating for a younger candidate ,instead of the personal ambition to run for the senatorial position in Delta State.
After enjoying the executive position for (8) eight years, with a revenue allocation of over Five trillion nine hundred and seventy one billion two hundred million within that period, nothing can be ascribed to him,in terms of infrastructural and human capital development. This is enough reason he shouldn't seek any other elective position in Delta State.
Honestly speaking, what does he want to achieve for Delta State, that he failed to do, when he had all the resources in his control of 25 Local government as the Executive Governor,compared to becoming a senator with lean resources to undergo mere constituency projects worth two hundred million? (200,000,000)
Interestingly, if he had transformed Delta State to the least part of Lagos in terms of social and structural development or built a modern city even in his local government council of origin or within our coastal areas, there wouldn't have been any reason for him to buy a property in Banana Island.
Obviously, Delta State is blessed with wonderful landscapes that can offer such platforms, like the glorified Banana Island,but nothing has been developed in these regards. The template of 'Delta Beyond Oil' that he promoted during his tenure only existed in the media, no foundation was built by him to verify this claim.
I have no personal interest but I am speaking the minds of Deltans,whose pensions were not paid even during his tenure, when he was Governor. The list is endless,the general consensus is very open,
We all have a role to play in rebuilding Nigeria and I must play my part, regardless of who is concerned. This is our fatherland and we cannot give emptiness to our children.
In my own field of entertainment,he built an event center in Asaba, very expensive for the ordinary citizens to rent, because of the high cost. A careful study of the Dome event center in Asaba which he built, shows one of the biggest waste of modern times,where the facility is ran by a rented generator,"
He further stressed that he was not speaking out of personal interest, saying he has become the voice of the voiceless in view of his capacity as the UKAID Goodwill Ambassador on 'Making a Difference Against Corruption'.
"This is not about our personal interest,it is beyond the blame that is being placed on the political parties either as PDP or APC, the fundamental problem are the people who have failed to live according to the ideology of their irrespective political parties and against the desires of the people.
I shall continually act in the interest of the larger society, I have no grudge against anyone,but I am reflecting one simple fact for politicians to understand,that, when leadership opportunities come their way, they should leave legacies that will speak for them. Money is not everything,prosperity will judge us. I will continue to invest my profile and risk commendation,because a future that we fail to protect today,we shall live inside, as slaves in the future.
Consequently, my passion as a Global Goals Ambassador has inspired me towards consultation with some stakeholders. I will advise him to become an elder statesman and agitate for the re-opening of sea ports across Niger Delta
Interestingly, I have submitted different plans and initiatives to expand the opportunities for our youths ,as a means to create jobs
We cannot keep silent, hoping the best for today or the future. We all should speak for the betterment of our people, irrespective of our status, they should know that leadership without sacrifice is wasteful privilege," he writes.