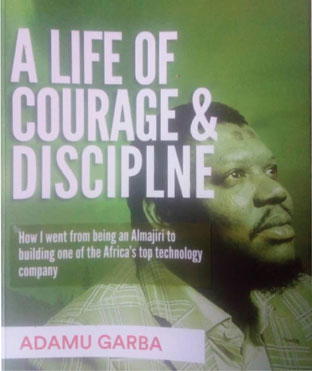 By Joan Atamua
In this book, A Life of Courage & Discipline, published by Adio Strategy and Communication, Adamu Garba, the author, tells the story of his life and teaches youths that their dreams can be achieved through hard work and discipline.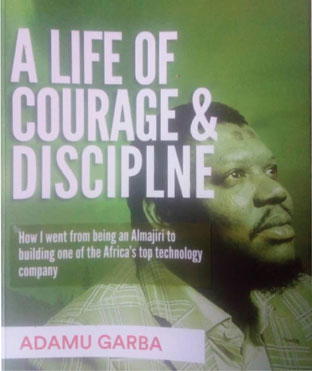 The book is made up of seven chapters and in each, he takes the reader on a journey through the rough paths to his success. He breaks down his success story in such a way that the reader may be able to understand and be inspired to work hard to become successful.
In chapter one and two, Garba starts with the history of his family members, narrating how his family came to be rulers of their own town which was founded by his own great great grandfather; how he ruled for a short period of time and how it was passed onto his great grandfather. He also talks about their major occupation which was cattle rearing and farming; how the men took the cattle to graze while the women milked the cows to make drinks called nono and fura da nono.
Through his narrative, the reader gets to understand the importance of dairy production of which if rightly invested in and provided with enabling environment and solid incentives, northerners can be lifted from poverty. He also talks about his own father who left home to become an Islamic scholar because he felt betrayed by his family, and of how his father eventually found his mother who wanted her children to go to school and achieve what she was never able to achieve because of her early marriage and motherhood.
The mother, we are informed, was additionally motivated by the Youth Service Corps members who came to buy things from her. She loved their uniform and wanted her children to wear it someday; but this made his father and mother disagree because his father wanted him to become an Islamic scholar like him but the mother wanted him to go to school. Eventually, they reached an agreement that he will attend an Almajiri school until he was eight years of age, then he would attend school to get the Western education.
The author also writes about his life in the Almajiri School and in his other school; how he became an entrepreneur at the age of eleven. He also discusses how the ranching system will be of great help to Nigeria and enable us to "compete with the Dutch who are currently producing the best milk and beef in the world". He tells how he was able to work to pay up his fees just to write his WAEC exams.
In chapter three, he discusses how he made up his mind to enter into the world of technology because of the news of Bill Gates becoming the richest man in the world. Unfortunately, he had a poor result which could not get him admission into the university, but he did not allow that to stop him. He applied to a newly established university with the condition that he will have to pass the pre-degree program. He also narrates how he became politically active and escaped detention when he was in Kano for his pre-degree program.
The author created the Sir Adams Research Organisation to help guard against religious intolerance that was arising on campus. This led to his suspension from school. He did not want to go home because he thought about his mother and how the news would upset her. So he stayed in Kano with his uncle and continued with the SARO movement. He started his study in a valuable program at NIIT and completed it. He felt sad that his mother was disappointed in him. Later, he proceeded to Lagos in search of the knowledge he could not find in Adamawa.
In chapter four and five, the author writes about his life with his father's friend, his ordeals both in Lagos and Warri where his skills came to light and he was paid handsomely as he was progressing. He also tells about his company called SASUMOTA, and of how it progressed but became short-lived. Later, he started another company called IPI.
The author also shares how he worked so hard to start up the company; what he faced, the people who cheated him; how he was broke but finally had a breakthrough. He decided to invite his childhood friend and another friend so that they could build IPI to be better and stronger, which they did and IPI became a reputable, strong and successful company and has received a lot of awards today.
In chapter six and seven, Garba writes about the Nigerian economy and its attendant corruption, submitting that for there to be meaningful growth and development, the state must guarantee the total and genuine independence of the Central Bank and that NNPC must be deregulated and privatised. Finally, he shares with the reader his dream to one day become the President of the Federal Republic of Nigeria.
A Life of Courage & Discipline is not only an inspiring book; it is also very educative. The book is a must-read for everyone who wishes to successfully traverse through moments of adversity and arrive at the doorsteps of success.