Analysts in pessimistic forecast for this week
By Peter Egwuatu
The bear crush on the Nigerian stock market continued last week as the stretching into 7th consecutive trading sessions bringing total losses so far this year as at close of business last weekend to N1.8 trillion.
Specifically, the Nigerian Stock Exchange, NSE, market capitalisation which represents the total value of all investments in the Exchange, closed at N11.802 trillion down from N13.609 trillion at the close of trading in December 2017.
But some analysts have forecast a break in the streak of losses this week as some investors may want to take position on some companies that have favourable fundamentals.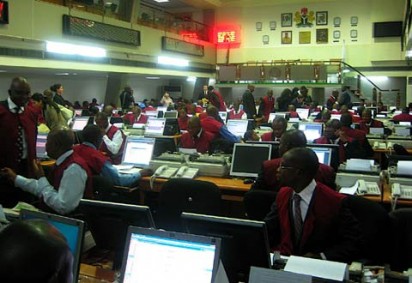 Market operators have attributed the bearish run experienced last week to sustained sell-offs on most of the highly capitalised stocks occasioned by political concerns.
A week-on-week, W-o-W, review of the market showed that at the start of trading last week, the NSE Index declined by 1.3 percent and the bearish performance was sustained till Thursday before the market gained one percent on Friday. The largest daily loss in the past 8-months was recorded on Wednesday (-3.5 percent) as investors sold off highly capitalised stocks in the Banking and Industrial Goods sectors.
Accordingly, the benchmark index fell 5.0 percent W-o-W to 32,327.59 points, while year-to-date, YtD, loss worsened to -15.5 percent. Similarly, investors lost N624.4billion as market capitalisation reduced to N11.8trillion, the lowest level since July 2017.
Reacting to this development, analysts at Afrinvest Research stated: "Since the rout started at the tail end of January, the Nigerian market has lost 27.3 percent, one of the worst performing within this period, globally.
With no fundamental driver to boost investor sentiment on the horizon, we believe the current weak performance will persist, although we expect speculative trading to shape activities pending the completion of the general elections in 2019."
The analysts at Afrinvest added: "Furthermore, technical analysis of the market also makes a case for a rebound in performance in the coming week, with the Relative Strength Index (RSI) currently at 20.5 points – which is in the oversold region."
Commenting as well, Analysts at Vetiva Capital Management said: "As market sentiment remains evidently weak and sell-pressure persists on blue-chip stocks across all key sectors, we anticipate another bearish start to trading at week open. The stock to watch is Flour Mill which shed 11.63 percent 11.63 percent last week, bringing the stock to a 16-month low of ?19.00. At a 48 percent discount from our target price (?36.32) the stock is currently rated BUY."
However, activity level strengthened as average volume and value traded improved 7.6 percent and 40.2 percent to 251.7million units and N4.7billion respectively.
Specifically, a total turnover of 960.940 million shares worth N18.329 billion in 16,896 deals were traded last week by investors on the floor of the Exchange in contrast to a total of 892.725 million shares valued at N13.075 billion that exchanged hands last week in 15,607 deals.
The Financial Services Industry (measured by volume) led the activity chart with 774.087 million shares valued at N9.244 billion traded in 10,637 deals; thus contributing 80.56 percent and 50.44 percent to the total equity turnover volume and value respectively. The Conglomerates Industry followed with 54.805 million shares worth N80.062 million in 740 deals. The third place was Consumer Goods Industry with a turnover of 43.013 million shares worth N3.341 billion in 2,468 deals. Trading in the top three equities namely – Guaranty Trust Bank, Zenith Bank Plc and Access Bank Plc (measured by volume) accounted for 329.986 million shares worth N7.573 billion in 3,871 deals, contributing 34.34 percent and 41.32 percent to the total equity turnover volume and value respectively.
Thirteen (13) equities appreciated in price during the week, lower than thirty-three (33) in the previous week. Fifty-eight (58) equities depreciated in price, higher than thirty-nine (39) equities of the previous week, while ninety-eight (98) equities remained unchanged higher than ninety-seven (97) equities recorded in the preceding week.