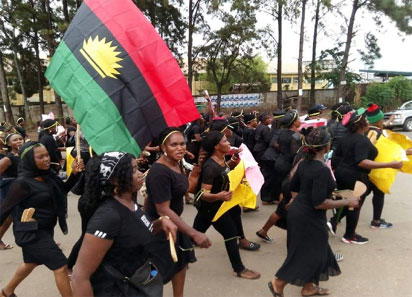 Female members of IPOB protesting
By Josephine Agbonkhese
Although women tend to do the same thing, whether they are hurting and want to curse or are feeling loved and want to bless, nobody fails to differentiate between both environments. Hurting or loving, women cry, sing, dance and strip.
Several times, the Nigerian woman has been forced to be hurting, resulting always in an outcry: from protesting the poor maternal-child health facilities in Ogun to supporting the grazing bill in Benue, forcing down oil firms in Bayelsa to protecting a traditional stool in Edo against politics.
The most recent being over 100 of the 2000 plus women of the Indigenous People of Biafra, IPOB, docked and denied bail for crying, singing and striping penultimate Friday for an "unlawful assembly" which sought the release of their leader, Mazi Nnamdi Kanu, whose whereabout has been unknown since  September 14, 2017. Only to be released one week later, absorbed of all charges.
Women agitations
Women agitations in Nigeria are well documented. The most popular being the Aba Women's Riot or, to the anti-colonialists and gender-sensitive, Aba Women's War(1929). When the colonial government decided to review the direct taxation regime introduced and imposed on men the previous year, the  enumeration of wives, children and livestock became necessary.   Suspicious that the enumeration was a prelude   to the extension of direct taxation to them (women),  because they had no political power within the patriarchal colonial system, they utilized collective action to communicate their dissatisfaction.
So, on December 2, 1929, more than ten thousand women demonstrated against the  enumeration exercise. This event by rural Owerri and Calabar women lit a fire across most parts of the  Eastern Region within the next four weeks of the women's war that spread across no fewer than six ethnic groups. Most significant about it though was the success gained in curbing the direct taxation regime.
Though the issues are entirely different, this latest protest, like other recent protests by women in the region, has become too difficult to turn a blind eye to.
January 2018
Recall that earlier in January, female  members of IPOB, though already proscribed by the Federal Government, reportedly disrupted a meeting of Southern and Middle Belt leaders in Enugu, tagged Handshake Across the Niger.
As they protested and cursed the security operatives who locked them out of the Base Center venue of the event, some of the women stripped themselves stark naked, inviting the President-General of Ohanaeze Ndigbo, Chief John Nnia Nwodo, whom they accused of supporting restructuring, to come and see their nakedness so that he would "die."
One of them who identified herself as Madam Chichi said, " How will soldiers kill our unarmed children who were merely agitating for a referendum while those who carry AK-47 rifles, kill and maim Nigerians across the country are hailed by the Federal Government?
"We are tired of being in this country. They should allow us to go to Biafra. Nigeria's unity is negotiable. We do not want the injustices and oppression going on in Nigeria…."
Very similar to her lamentations were those of  Nkechi, one of the women involved in last Friday's protest, who allegedly told the press: "What is wrong for us to say no to intimidation in this country? We have the right to say we are going to be part of this country?"
May 2017
Flashback May 2017, pro-Biafran women also protested naked in Abiriba, in Abia State, following the alleged arrest and harassment of their members by military men during their general meeting.
It was gathered that as the  women were holding their meeting, soldiers stormed the venue and allegedly started shooting sporadically, and later  arrested some of them and took them to the Barrack at Ohafia.
The action of the soldiers angered the women who later  stripped naked and marched to the palace of the  traditional ruler of the community protesting the soldier's action.
Stripping
While stripping may have become common among these women, one thing is clear: these women embody a philosophy that hates intimidation, pigeonholeling and politics of the elite irrespective of tribe. But they exists in a geographical space that seeks, among other things and in the absence of certain conditions, sovereign recognition—Biafra. This makes whatever action the woman from the East takes poignant.
Perennial cry of marginalisation
The perennial cry of marginalisation from the Eastern region of the country is one of many across the country. Surely, no government will allow disorder. And, certainly, none will agree to disintegration when unity is a far profitable option. But the truth remains that patriotism is not engendered via political demagogue. Only practical evidence of or even honest attempt at welfare governance gives a people a sense of belonging. Furthermore, some say, and rightly so too, that the people across the Niger should ask their leaders questions.
However, as much as government is uncomfortable about the Owerri women's questions and threat over 2019 elections, it will be  beneficial to understand that agitations against oppression, once taken up by women; as their approach to such causes is often more of "If I die, I die", as displayed in the Aba Women's Riot, are always a phenomenal uprising. They never end without some form of results.
According to a Professor at the University of Lagos, who pleaded anonymity as he spoke to Weekend Woman as he considers  Biafra a touchy subject, these women carry the very underlying principles of Biafra—independence, industry, love for the land, fearlessness and resilience.
These qualities might be common to many women, he added, "but the Igbo woman's environment places her in a position to give deeper meaning to the life and philosophy of a fiercely-republican people."
The Nigerian society and, by extension, government, he continued, is making a grave mistake by treating them in the most dehumanising way—tear-gasing them, beating them up, tearing their clothing, arresting them, denying bail, and even more.  "All these will only make them more dogged in their agitations."
Biafra as a geographical space and an ideology
No doubts, the emergence of these women has brought a new dimension to the separatist agitation by thousands of Igbo youths who feel frustrated about the way their country is being run. Even if Biafra, as a geographical space, may never be realised, but as an idealogy, the wise woman from the East will be there as long as they have already emerged. Always. Reincarnating. Ready to cry, sing, dance and strip to love or curse. It is better, cheaper and safer for the country to ensure structures that encourage the former—love.
Perhaps we should begin to consider urgently restructuring the country maybe it will truly help bury these feelings of intimidation and oppression, and restore, in every minority tribe in the country, an utmost sense of   belonging. And for the entire country, unrivaled peace.