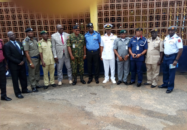 Joint security meeting at the Imo Police headquarters,
By Chinonso Alozie, Owerri
Heads of various security agencies in Imo state, Monday said they have adequately garnered their officers to deal with the September 14 sit-at-home declaration by the Indigenous people of Biafra, IPOB.
The decision was taken in a joint security meeting at the Imo Police headquarters, in Owerri, which lasted for about an hour.
The security agencies include the Imo state commissioner of police, Dazuki Galadanchi, 34 Atillary Brigade Commander, Obinze, H. I Bature, Director of State Security Services, DSS.
Others in the meeting, Controller Nigeria Customs, Federal Road Safety Corps, FRSC, Nigeria Security and Civil Defense Corps, NSCDC, Nigeria Air Force, Nigeria Navy, Nigeria Immigration Service, Nigeria Prison Service, NPS, among others.
Speaking to newsmen, the state commissioner of Police, Galadanchi, said that the essence of the meeting was to ensure that the members of IPOB, do not use the sit-at-home order to cause trouble.
"The heads of all the security in Imo state are working together. We are here to tell the world that we are saying no to the proposed sit-at-home order on September 14 ,by IPOP."
"We want to tell members of the public that anyone who has any genuine business on that day to go about his businesses. We have resolved among ourselves to protect the citizens."
"IPOB members should remember that were one person's right ends,the other person's own Begins.Imo state must be great in our time.the sit-at-home order by IPOP is at variance with the law."
"Anybody who tries to threaten law abiding citizens in the name of sit-at-home will have the security Agencies to contend with."
In his view, Bature, briefly said: "We advice the pro Biafra group to explore lawful channels in pressing home their demands rather than threatening public peace."
Heads of various security agencies at the Imo police headquarters during a security joint meeting over the Sit-at-home order by IPOB. photo by Chinonso Alozie