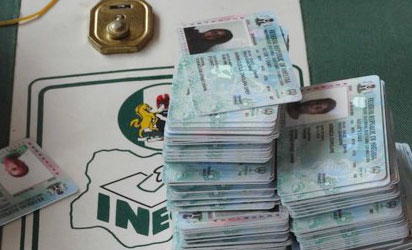 INEC PVCs
INEC PVCs
Hajiya Baheejah Mahmood, Bauchi State Gubernatorial Aspirant under the Platform of the Advance Congress of Democrats (ACD), has urged women to shun money-bag politicians and vote for aspirants with proven integrity.
Mahmood gave the warning while addressing women's group in Bauchi on Sunday.
"I advice you not to collect their money, wrappers, soap and souvenirs.
"You must understand the antics of some politicians who are bent on using money to corrupt the system, their target is to win the election by hook or crook .
‎
"As eligible voters you have to teach them a lesson, show them that money cannot buy your conscience and you have right to go for credible , reliable and competent candidate," she said.
‎
"When these money-bag politicians win, they will starve you, because money Politics has been responsible for underdevelopment in all nooks and crannies of our dear state," she said.
‎
She said: "as women you are the majority of voters you should not take money against a trustworthy and credible candidate".
‎Also speaking Alhaji El-Faruk Gado the State Chairman of Advance Congress of Democrats (ACD) advised Women to join the party and campaign from doorstep-to – doorstep.
Gado called on the women to mobilise support for Mahmood to become Governor in 2019 for the development of the State.
‎
He described ACD as a party who's motto is bye- bye to poverty, adding that electing, ACD candidate will bring wealth and economic development of all households in the state (NAN).‎