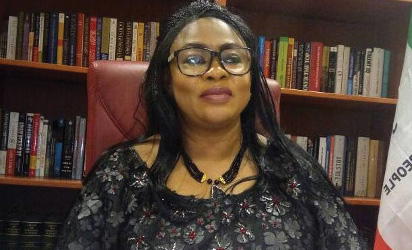 Stella-Oduah
The All Progressive Grand Alliance (APGA) has said that Sen. Stella Oduah was never a part of them and were not fazed by the recent drama of returning to the Peoples Democratic Party.
Oduah, an indigene of Ogbaru Local Government Area of Anambra, is representing Anambra North Senatorial District of the state.
The Ogbaru council chapter of APGA declared this position at a stakeholders meeting organised by their Chairman, Mr Arinze Awogu, in Ogbaru on Sunday.
Awogu had called for a meeting of the 16 ward chairmen of the party in the council to forestall any unfriendly development within the rank of the party in the council due to Oduah's sudden open declaration for the PDP.
He said no member of the party should attend any meeting at the behest of the senator and urged them to deploy their strength to the political progress of APGA.
Awogu also urged them not to be involved in anti-party activities, warning that they should be wary of the antics of opportunistic politicians.
"Members of APGA are encouraged not to attend any meeting by anybody except such that the party is aware of.
"We are strongly warned against any real or perceived act of anti-party, and any accused may not have the opportunity to defend himself before his fate is decided, so you should avoid anything that will bring you closer to anti-party.
"The sudden exit of Sen. Oduah from APGA is why I summoned this crucial meeting which is for all APGA leadership of the 16 wards in the local government, including Ward Chairmen, Vice-Chairmen, Secretaries, Assistant Secretaries, Women leaders, Youth leaders, Councilors and other appointees.
"This meeting is aimed at forestalling any attempt to break the ranks of the party in Ogbaru and it is also to provide direction for the party.
"So, this is resolving that Ogbaru Local Government Area APGA treat the distinguished senator as though she never joined the party in the first place and therefore, her exit will not threaten the progress of the party in the local government," he said.
Also, Mr Nnamdi Ifejika, Chairman of APGA in the council area, said Ogbaru would work with any candidate the party produced as its senatorial candidate to ensure maximum victory for APGA.
Ifejika lauded the APGA led government in Anambra under Gov. Willie Obiano for progress in the state, especially in the area of workers welfare and infrastructure development.
"On behalf of APGA, we have resolved to work with any candidate produced by the primaries of the party as that party is Supreme and we vow to deliver all the candidates of the party in the forthcoming general election," he said.
NAN