GOVERNOR Nyesom Wike of Rivers State has said the entire leadership of Peoples Democratic Party, PDP, in the state will decide on the PDP presidential aspirant to support ahead of the party's primaries.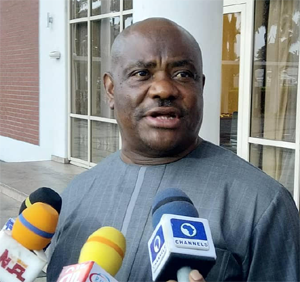 In an interview in Government House, Port Harcourt, Governor Wike said the direction of Rivers delegates will not be determined by one person.
He said: "At the end of the day, the leadership of the party will meet at the state level and decide where are we headed. Then we will all be together. No individual can do it alone.
"So Rivers State will move as a team; I will listen to the leadership of the party, then we will move forward.
"Who are we going to support? Where is the national survey? Who is more popular? This is how politics is played.
"I challenge any of the presidential aspirants from the North, who have gone to other governors and they have given them campaign coordinators, to mention if I have given them one name."
He said the decision on the way Rivers State will go, will not be determined by sentiments, but on the overriding interest of Rivers State and the country.
Wike said: "Can anybo-dy say I have met him one day to say support so and so presidential aspirant?
"People have been coming here and I told them I will not, and I will never, nominate anybody to be a liaison to any of the presidential aspirants. Not one person.
"Atiku (Abubakar) came here, (Sule) Lamido came here, (Ahmed) Makarfi came here, (Bukola) Saraki came here, (Aminu) Tambuwal came here, (Ibrahim) Shekarau came here, (Attahiru) Bafarawa came here.
"Let one person say I have ever said take Joseph, take John, take John Bull, take Beatrice as your campaign coordinator like some other did. I don't deceive people, I will not deceive people, and I will not deceive my people."
He stated that nobody will blindfold the people of Rivers State into supporting a presidential aspirant with compromised credentials, explaining that some of the aspirants are under the sponsorship of the Presidency.
He said: "But one thing you must take home is that I cannot be misled."