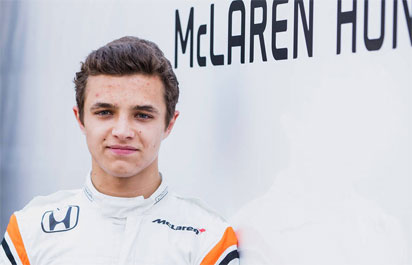 Lando Norris has set his sights on emulating world champion Lewis Hamilton as the British teenager prepares to make Formula One history.
Norris, 18, has been signed to drive for McLaren for the 2019 season, making him the youngest Briton to take part in the event.
He will team up with Spaniard Carlos Sainz to represent British-based McLaren after Fernando Alonso confirmed his retirement and Stoffel Vandoorne was axed.
With Hamilton having won four world titles, Norris has earned comparison with his superstar compatriot and he admits he is driven to follow in his footsteps.
"It's nice to be compared to such a good driver. I have admired Lewis since I started watching Formula One because I know how a good a driver he is and I know how hard it is," Norris said.
"And for him to have done as well as he has done is pretty impressive.
"Hopefully one day I can have as many championship wins as he has.
"But I think more of my focus is on next year rather than thinking what could happen."
Hamilton was aged 22 when he burst on to the scene for McLaren at the season-opening 2007 Australian Grand Prix.
Jenson Button was given his big break by Williams when he was just 20 at the turn of the century, but Norris will now eclipse them both when he takes to the grid in Melbourne on March 17.
His opportunity comes after he impressed in the McLaren car during recent practice sessions at the Belgian and Italian Grands Prix.
The current Formula Two driver has no concerns about making the step up at such a tender age.
"It doesn't matter if I was older – 20, 21, 22, whatever. I think I would still do the same job," he said.
"It feels good that they believe in me, I think that's very important.
"The top category of racing, it's a cruel world so we'll see how it goes."
AFP