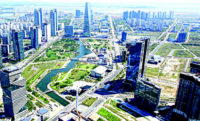 Model of Imperial International Business City
By Elizabeth Adegbesan
A coalition of Rights group and organizations has advocated for the protection of Nigerian companies, creating value in the Oil and Gas industry, from unlawful activities of expatriates which tend to hamper economic progress in the country.
They made this call at a press conference to address the suspicious liquidation of Sea Trucks Group (STG) and takeover of Jascon fleet of vessels, held in Lagos.
Speaking at the Conference, Coordinator, Campaign against Impunity, Mr. Sina Loremikan citing a case of WAV against liquidators said that there has been an unlawful neglect of court orders by expatriates who were brought on board in 2002 by Jacques Roomans, a Nigerian citizen of Dutch heritage and founder of West African Ventures (WAV) adding that a neglect of this act would not encourage investors patronage in the country.
He said: "Jacques Roomans, a Nigerian citizen of Dutch heritage and founder of WAV, had hired Fraser Moore, Stephen Assiter, Graham Pennycook and other expatriates to oversee WAV and Sea Trucks Group (STG) businesses in Nigeria and West Africa.
"The business was largely managed by Moore who served as the chief operating officer/managing director for many years and in March 2013, the expatraites, led by Fraser, persuaded Roomans to take a bond for $575 million ostensibly for the growth of his business.
"The interest on the $575 million bond was 9 percent per annum and was paid without default from March 2013 to October 2016, with $120 million earlier paid by Roomans to reduce the face value of the bond to $456 million — and the business continued to run.
"In February 2016, however, following a lull in the business, Roomans consolidated STG and WAV. In a police report, Roomans alleged that Moore, in connivance with the other expatriates wanted, by all means, to take over the businesses from him."
Loremikan stressed that the Groups are demanding the government, regulators and agencies intervention in the sector because they noticed a gross disobedience of the Nigerian law by those expatriates in the case
"Our specific targets for wading in on this issue is that we are asking that the case of STG in liquidation/Telford be closely monitored and that government ensures adherence to the rule of law. We are already noticing the gross disobedience of Nigerian laws in this case and are concerned at the audacity of Expatriates in our country, committing this kind of impunity.
"In a suit filed by WAV against liquidators on June 20, 2017 , WAV has applied for an order of interim injunction restraining the liquidators from taking any steps or undertaking any business. The case, with suit number FH/L/CS/968/2017 was presided over by Chuka Austine Obiozor, a Justice of the federal high court in Lagos and after the consideration of application, the court ordered that the parties maintain status quo pending further order.
"Also, construction and accommodation vessels, Jascons 25, 28, 31 and 34, following the court orders, are to be controlled by WAV, but these vessels, Fraser had already taken and renamed for Telford Offshore; this is clear violation of the court orders. All these orders have so far being disobeyed by these expatriates.
"We are hereby, alerting the Nigerian authorities-federal government, the Nigerian National petroleum Corporation (NNPC), its subsidiary, the National Petroleum Investment Management Services (NAPIMS), the Nigerian Content Development and Monitoring Board (NCDMB) and the National Office of Technology Acquisition and Promotion (NOTAP) that they should be alive to their responsibility to protect lawful Nigerian companies creating value in the Nigeria Oil and Gas industry from unlawful activities of expatriates bent on rolling back the progress so far made by indigenous Nigerian companies, he said."