The Nigerian Capital Market Committee (CMC) held its second  quarterly meeting for the year 2018 recently. The Acting Director General of Securities and Exchange Commission, SEC, Ms Mary Uduk , in an interview immediately  after the CMC , spoke on issues bothering  on regularisation of shares accounts, e-annual reports of companies, minimum operating standards by operators, amongst others.
Excerpts: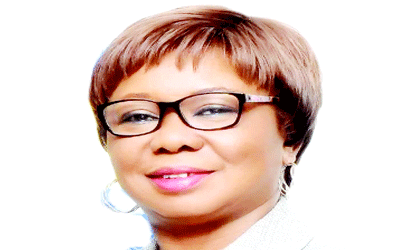 Where are we now on forbearance of multiple subscriptions?
During the banking and insurance sector consolidation between 2004-2007, there were a lot of issues in the primary market because the banks or insurance companies came to the market to raise funds and during that period, because a lot of people were coming to the capital market for the first time, they saw the capital market as a place where they can make a lot of money so a lot of them bought shares in different names.
Today those shares are not in the system, because if you are not able to identify yourself properly they cannot be captured in the system.  We are saying come and regularize that situation and get back your shares which are being warehoused somewhere. There is absolutely no punishment attached to it, the SEC is not punishing anybody, we just want such individuals to come and regularize that transaction between now and 31st December 2018.
The objective of doing that is that it will increase liquidity in the market because the shares are just there no trading on them, not only that, the investors cannot claim their dividends too and that increases unclaimed dividend. Let them come and regularize so that there will be increase in trading of those shares and they will also claim their dividends so that the balance of unclaimed dividends will also go down.
The CMC just finished its meeting, what were the major highlights of discussion?
As you are aware, the major essence of this quarterly meeting is to identify challenges affecting operations/activities in the Nigerian capital market and formulate relevant solutions. This edition of the CMC meeting was no different as participants identified various issues that required extensive reviews and attention. Some of which are e-annual reports, extension of forbearance for multiple share subscription, progress in e-dividend registration, constitution of a committee on FinTech and the implementation of recommendations of various committees among others.
How far has the implementation of e-annual report gone?
Over one year ago, the SEC spearheading the market saw the need to embrace electronic annual report distribution for three reasons. One we discovered that the cost being spent for the printing of annual reports which in many cases gets to the investors very late, many months even after the AGM has held such monies would have been wasted.  So we discovered that rather than waste such monies its better to distribute these annual reports electronically.
The second advantage is that because technology is taking over the world and wherever you are in the world, once your email address is known you can receive the audited annual report electronically. And we discovered that the money that was being wasted for printing annual reports will now be distributed as part of dividends. Why do you want to waste such monies when annual reports can posted to shareholders directly to his email. We gave the market to implement a pilot exercise for one year. That one year ended in June, when it ended SEC conducted an impact assessment to see how it went and at the CMC it was considered and it was agreed that technology is the way to go.
What about the minimum operating standards of operators. What is the situation now? 
Yes it was. As part of the Commission's initiative to enhance the efficiency and effectiveness of the capital market operators, a number of initiatives are being taken. About two years ago the Commission introduced the Risk Based Supervision for Capital Market Operators in addition to that; we also set up a Committee to come up with a Minimum Operating Standards for capital market operators. The Committee has submitted its report and some of the recommendations include manpower and equipment, organizational structure, technology and effective processes. The report was discussed at the CMC and adopted, after that the relevant department in the Commission will work with the leadership of the Trade Groups and implement the recommendations. We have a minimum of two years to implement that.
One advantage we have is that the Nigeria Stock Exchange, NSE has already implemented the Minimum Operating Standard for the stock brokers, now what we are going to do is also implement the Minimum Operating Standards for the Registrars, Fund managers, issuing house, custodian and the rest of them and we will commence immediately following the adoption of the recommendations of the committee at the CMC Meeting.
Can we know what is delaying crowd funding in this market? 
I want to assure you that the SEC is very desirous in having rules on crowd funding. We have severally discussed it and we want to have crowd funding in this market but we have a challenge. Firstly, the  Companies and Allied Matters Act, CAMA which is the primary regulation for all companies does not have provision for crowd funding and even if it has,  Investment and Securities Act, ISA does not support it. I want to assure you that with the review of ISA that provision is now there and when it is approved we will be able to have it.
Why is the demutualization of the Nigeria Stock Exchange taking so long? 
That is going on, as we speak, the bill is with the Presidency, the National Assembly has passed it.
Has cost of raising funds in the capital market reduced?
What we did in terms of trying to enhance issuance is to try to look at the entire value chain holistically and look at the issues that actually impede on issuers coming to the market. One of them was transaction cost. There was a committee that was set up and a study was conducted and it was observed that our market is very expensive in terms of issuance at the primary level and the Commission in collaboration with other stakeholders looked at the cost of the issuance. If you are coming to the market how much will the issuer pay? The rule has provided a limit of 3.17 percent for equities and 3.97 percent for Fixed Income.
What we did in conjunction with other stakeholders is to look at those entire costs and do a haircut. Everybody agreed on how to reduce the cost in order to incentivize issuers to come to our market and that is what we did. We reduced the cost of equities from 3.17 percent to 2.21 percent and then for Fixed Income from 3.97 to 2.38 percent, it was a pilot scheme for one year after which we will do an impact assessment to see how it has impacted in the market.
I can say it has started impacting because issuers are coming and they are happy that these transaction cost has been reduced. It's a value chain, but it has started giving result. At the end of one year the Commission will conduct an impact assessment to decide if we can move forward or make amendments.
Can we get an update on the MTN IPO? If they decided to come to the market how long will it take to approve it? 
Let MTN file its application first and the day they inform you they have filed watch what the SEC will do. Not what is being bandied on the pages of newspapers, we will do our work to the best of our ability. I will make an exception and allow the press to come and monitor, that's the seriousness with which we view everything that surrounds MTN and other filings. As we speak, as far as we know MTN is still a private company and until they convert to a public company and then file application with us, that is when the matter should be focused on us. Another thing you have to consider is documentation
The NASD Plc  is created for unlisted securities. What are you doing with CAC to ensure that every PLC leverages that platform?
We have been working with NASD, we have come up with a rule of trading in securities. We have collaborated with CAC on this; we have an arrangement where they open their portals to us and also agreed that companies that have not registered their shares with the Commission will not be allowed to trade.
Secondly, on the issue of unlisted securities, we have an interface with CAC and that essentially is because these Plc, about 17,000, we need to liaise with other regulators to check if their securities are registered with SEC when they bring annual returns. We have also issued a circular and given a deadline of 31st December for all companies that ought to have registered their securities and have not registered. We can decide either to extend it or not. The law provides that they register their securities.