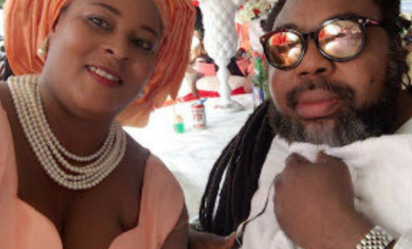 Efemena Okedi and late Ras Kimono
By Benjamin Njoku
Barely one month after the burial of reggae legend, Ras Kimono, his widow and manager, Efe (nee Okedi), passed on yesterday, aged 42.
The Chairman, Copyright Society of Nigeria, COSON, Tony Okoroji, who confirmed the news of Efe's demise to Vanguard, said she complained on Saturday night that she was not feeling well and was rushed to a hospital, where she was confirmed dead on arrival at about 3.30am, yesterday.
Chief Okoroji described Efe's demise as 'devastating,' adding that the deceased played a very vital role during last month's burial of her late husband, who died three months ago.
Taking to his Facebook page to pay tribute to the deceased, Okoroji described Efe as 'a very brilliant, beautiful and blessed woman.'
According to him, "Efe Okedi was a special kind of woman. Few Nigerian women have made the kind of impression Efe Okedi made on me.
"Just recently, Efe lost the love of her life, my friend, the great Rub-a-dub master, Ras Kimono, and father of her daughter, Dimma, a guy with whom Efe was inseparable.
"She was completely heartbroken, but did everything to make sure Kimono was buried like a king. In Lagos, Asaba, Onicha Olona, Efe was a guiding light of the celebrated burial of Ras Kimono.
"I am totally devastated. It makes no sense. I received a call early this morning(yesterday) that Efe Okedi has joined Kimono! The beautiful Efe Okedi has passed on! I am really not sure I can deal with this."
Also, confirming the news to Vanguard, Mr. Michael Odiong, Project Manager of Première Music, Ras Kimono's former record label, said the deceased died without any sign of a previous ailment.
Odiong said late Efe attended an event on Saturday and returned late in the evening.
He disclosed that the family would soon release an official statement on the incident, adding that they are requesting for privacy during this difficult times.
Kimono married Efe after he parted ways with his first wife, Sybil, the woman he spent a greater part of his life with, and who bore him three daughters and even went on to manage his career for years.
Both of them relocated to the United States after some time. And that was the last people heard of them.
A few years back, Kimono returned all alone and was being managed by Efe Okedi, and just like it happened between him and Sybil, they also fell in love, started living together and ultimately had a daughter, who is Kimono's fifth child.
Recall that when the remains of her late husband were brought for lying-in-state at the headquarters of Copyright Society of Nigeria, COSON, in Ikeja, Lagos, on August 23, Efe was overcome by grief as she expressed her undying love for the man she fell in love with as his manager and the father of her only child.
Grieving over her husband's demise, Efe had described Kimono as 'a loving husband' adding that he was different.
She had mourned: "We were always together; he was always the best. Of course, I have had other relationships, but Ras Kimono was different. I would miss him forever."
While their romance lasted, Efe witnessed the last days of Kimono. She was with the music icon when he kissed the dust and had since refused to be consoled, giving many reasons to express concern about her survival after the demise of the husband.
Kimono and Efe were always together at events and social gatherings. In fact, since he returned to the country, late Kimono rarely went anywhere without her.
So, since Kimono passed on in June, many feared she might not be able to bear the loss. He died on June 10 and was laid to rest on Saturday, August 25, in his hometown, Onicha Olona, Asaba, Delta State.