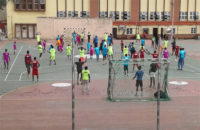 By Solomon Nwoke
GRASSHOPPERS of Imo, Abia Valiant and Niger United are among the twenty-two teams expected to arrive in Lagos tomorrow for the second phase of the first edition of the Prudent Energy Handball League Championship, which throws off from Wednesday to October 7 at the Mobolaji Johnson Sport Complex, Rowe Park. Yaba.
The male teams confirmed for the second phase of the league are Lagos Seasiders, COAS Shooters, Safety Shooters, De Defenders, Prison Key Boys, Niger United, Owena Kings, Kada Stars, Borno Spiders, Vipers of Plateau, Kano Pyramid and Sokoto Rima.
The female teams that will vie for honours are are Lagos Seasiders, Defenders Babes, Safety Babes, Edo Dynamos, Owena Queens, Imo Grasshoppers, Abia Valiant, Desert Queens of Katsina, Kada Queen and Peacocks of Plateau.
Niger United and Safety Babes of Abuja currently top the table in the men's and women's categories with 150 games are expected to be played in the 12 day event.
Technical Director of the Handball Federation of Nigeria (HFN), Ferdinand Emeana has assured fans of thrilling moments during the tournament and urged all the teams to adhere to the rules of the games to enhance their quality of play.