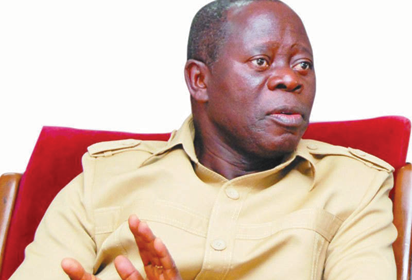 APC National Chairman, Adams Oshiomhole
By Alemma Aliu
BENIN CITY — AN uneasy calm is holding in the Edo State chapter of the All Progressives Congress (APC) over the mode of selecting party candidates for the forthcoming elections.
The national chairman of the party, Comrade Adams Oshiomhole has been in the forefront for the use of direct primaries in picking candidates of the party for the election. However, his political godson and successor as governor, Mr. Godwin Obaseki, like the majority of the governors in the country had been believed to be opposed to direct primaries.
Direct primaries sources in Benin say, would deny the governor the privilege of pushing forward his associates and barring his antagonists in the selection process.
The governor was believed to be supportive of consensus.
Oshiomhole has allies in the state among whom is one of the party leaders, Mr. Charles Idahosa who in an interview with Vanguard praised the direct primaries as a more democratic process that would squelch mutterings that greeted the use of consensus in the selection of candidates for the last local government election.
"I support direct primaries so that we can all have a collective responsibility in choosing the candidates in respective positions we are going to contest for. If we all have a hand in picking the candidate, automatically, we also have to work to return that candidate, but when you say consensus, though it is in our constitution, it is deceitful. It means some privileged few sitting in one room and taking a decision that we have arrived at a consensus, so I support the direct primaries to involve members of the party.
"What we have in Edo State where they said the consensus has worked is a silence of the graveyard, that is exactly what we are having here. The truth of the matter is that we should involve every card-carrying member of the party to have a say on who represents them. I am not the kind of politician that just talks; I am a politician that has gone through it all, so I know the advantages and disadvantages.
"In 2007, I contested the governorship ticket with Adams Oshiomhole, the present National Chairman, it was direct primaries, and I lost. It was very clear to me that I lost because Oshiomhole at that time was already a household name because of his labour antecedents.
A very senior official of the party when contacted yesterday said the issue is becoming explosive "so I will not want to comment on that until we have our meeting."
But the state Publicity Secretary of the party, Chris Azebamwan said the party in the state would not adopt a blanket approach saying that "peculiarities that will be taken into consideration to reach a decision."