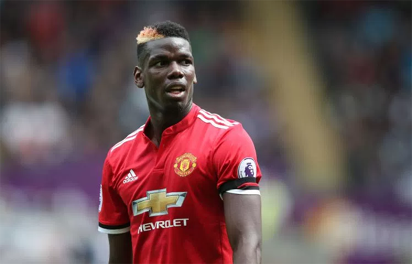 Luis Suarez believes Paul Pogba should be challenging for more trophies than he is at Manchester United and would always be welcome at Barcelona.
Pogba has endured a turbulent two years since returning to Old Trafford for a then world-record fee of 105 million euros ($121.7) and his relationship with coach Jose Mourinho has become strained.
The 25-year-old rediscovered his best form away from his club, for France in the summer, when he inspired Les Bleus to World Cup glory in Russia, beating Uruguay and Suarez on the way.
But since Alex Ferguson retired in 2013, United have failed to go close in either the Premier League or Champions League, while Barca have won three La Ligas in that time and the Champions League once.
"Pogba is an elite player who has won everything and we always want to have the best," Suarez told RAC1 on Tuesday.
"He is a player that has a lot of quality and who is one of the key players at United, and I think he would like to compete for more than he is competing for now.
"But that's how it is, he does not belong to Barcelona but he will always be welcome."
One Champions League crown in five years, however, represents a disappointing return for Barca, particularly while rivals Real Madrid have dominated the tournament, winning it three times in a row.
Lionel Messi, now captain after Andres Iniesta´s departure, has expressed his own desire to make amends, with the striker also coming off the back of a harrowing World Cup with Argentina.
"He's really motivated, even more so after the World Cup and the Champions League," Suarez said.
"But it's a really difficult competition to win and Messi can't win it on his own. It has to be a team effort, as good as he is.
"Obviously it's infuriating for us because Madrid have won the Champions League in each of the last three years. They have made history and it's a thorn in our side."
– Overworked –
One criticism levelled at coach Ernesto Valverde last season was that he overworked his players in La Liga, despite Barca enjoying a significant advantage at the top.
Suarez shoulders the blame too, pinpointing a league victory against Leganes when he played 90 minutes, three days before they were beaten in Europe by Roma.
"When you pass 30 you begin to realise there are times when you have to rest," Suarez said.
"I regret a lot the game against Leganes at home when we had a big lead in La Liga and the quarter-final with Roma three days later. I played the whole game and you get a bit tired.
"You have to manage things to be at your best in the big games. I think the coach is seeing those little details."
Suarez turned 31 in January and scored 25 league goals last term. He would like to finish his career at the Camp Nou but admits it will be difficult.
"It's complicated," Suarez said. "Look at players like Xavi and Andres (Iniesta), they are players who have been ingrained in the club but they have not been able to finish here.
"I am aware the day I do not have the level to play for Barca I would have to leave but the desire of every player is to end here."