By Victor Arjiromanus
Nine years old Mmesoma Ikwuagwu, from Abia state, described by some as being prettier than American rapper and singer, Nicki Minaj, has emerged winner of the just concluded Little Miss Nigeria Beauty Pageant in Lagos.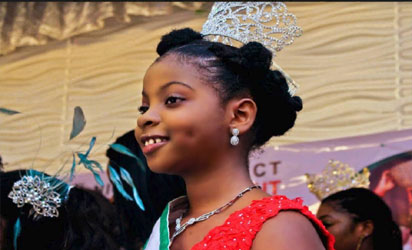 The event which held at Vantage point, Ikeja, Lagos, had artist like M'jpink who entertained the audience with wonderful performance.
Also, Menankiti Daniella, representing Anambra state and Mnena Ternenge representing Benue state came 1st and 2nd runner Ups respectively.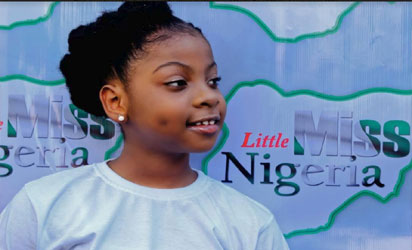 Mmesoma emerged winner of the competition after keenly contesting with 37 other smart girls from other states.
One of the judges,  Queen Abdulateef Titilope,  described the contestants as being very intelligent.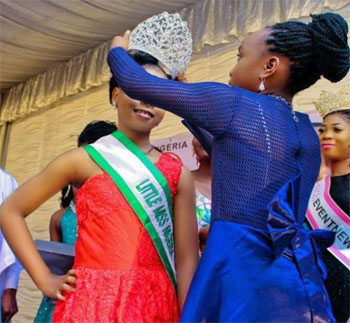 "All the contestants are very intelligent. As one of the judges, judging them was very difficult, but, definitely a winner must emerge in a contest. I plan to work with the Little Miss Nigeria to help promote any pet project she comes up with."
Speaking with Vanguard, immediately after being crowned, Mmesoma expressed joy for her victory and thanked the audience for their participation. She however revealed her intention to work together with her predecessor, Queen Esther Lawal to carry out her duties of helping less Privileged children.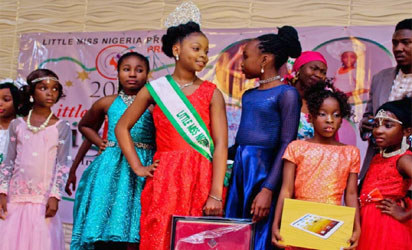 According to her, "I am happy for my victory. I feel glad and very encouraged to do better for the children. I plan to partner NGO's and government agencies to help the less privileged, to support them. I also plan to support the rescued Dapchi and  Chibok girls drive.
"My predecessor, Queen Esther Lawal is very kind, pretty and she's very intelligent too. She has been so helpful throughout today, I will like to say to her, you're a great queen, I hope to be like you and maybe even as great as you."
Expressing her joy, the mother of the queen, Mrs. Ikwuagu said Mmesoma is a special gift from God who has always made a name for herself, not just in beauty but also in her academics. She said the little beauty has won a lot awards to herself.
The convener, Little Miss Nigeria Project, Oladele Nihi, said the project is to get one of the little girls to advocate for her colleagues in the Nigerian situation where female children are the main victims of crisis such as the Boko Haram, kidnaps, rapes and other social vices because they are armless."
Calling on the state and Federal government to support the project, Nihi said the wife of President and wives of governors should key into the project.
She said they should see the platform as a means to reach out to Nigerian children.
"They can partner with us so that their goodwill and benevolence to the Nigerian children can pass through the queen, she can even be the queen of their pet projects."