Some residents of Lokoja, Kogi, have expressed worry over the increasing menace of cell phone addiction, especially among young persons and women in the state.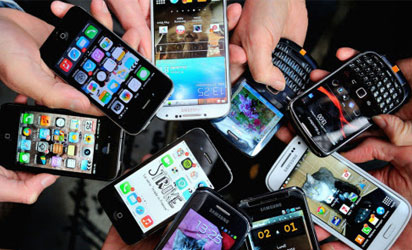 The residents expressed their concern while fielding questions on the effects of phone addiction among Nigerian.
Mr Friday Ayoola, a mobile phone dealer, said on Thursday in Lokoja that about 75 per cent of youths between the age range of 16 and 25 years were addicted to their Smart phones.
Ayoola said most of his customers were youths who use the phones to browse and listen to music aside making calls.
He said that their hand-held phones as the name suggests were always handy for services with a lot of applications for such services as chatting on Facebook and Whatsapp, pinging, selfie, SMS and transfers, among others.
The trader said that some youths even use their phones to watch adult videos, which is not really proper.
He noted that more females than males in the state were addicted to phones, especially Android phones.
"I want to implore parents to focus more on their children especially the underage because once they have access to Android phone they have access to Internet which gives them liberty to watch anything they want,'' he said.
Mrs Rashidat Lawal, a parent and mother of four, also said that majority of the phone addicts were youths.
According to her, house wives are more addicted to their phones than their husbands because they use the phone for over 10 hours a day while the men, though also guilty, are prevented by their jobs.
Lawal said addiction to phones had also led to incidences of broken homes because a lot of women give less attention to their domestic chores and eventual affection for their husbands, homes and family.
She added that many had little or no time for their children anytime their attention was needed.
The house wife said that the phones had their advantages as they could be used for snapshots, browsing, send and check mails, video calls, Twitter, watch videos, listen to music and use as bible in church, among other ills.
Lawal cautioned that too much of everything was bad, advising that phones should be used with some level of responsibility.
She also cautioned against health hazards inherent in addiction to cell phones, saying radiation from the phones could cause cancer, digital eye strains, neck problem, accident, male infertility and many more.
Lawal urged government to enact laws that could limit addiction, noting that "some secondary students still take their phones to school and play with it even when teacher is in their classroom". (NAN)