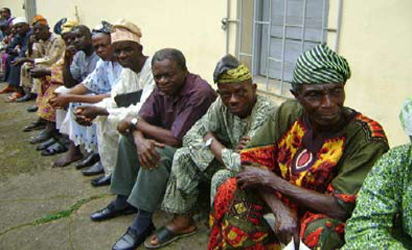 A cross section of pensioners( Note this image is used to demonstrate the story
By Victor Ahiuma-Young
THE National Pension Commission, PenCom, yesterday in Lagos, said its recovery agents had recovered a total of N14.76 billion from unwilling and recalcitrant employers who failed to remit deducted pension fund as at when due.
PenCom explained that the entire amount comprising principal contribution of N7.53 billion and penalty of N7.23 billion, had been credited into the workers' Retired Saving Accounts, RSAs.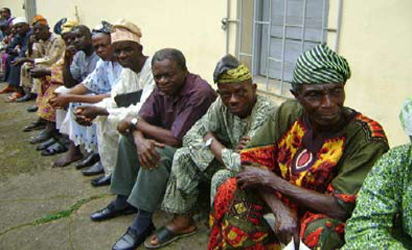 Acting Director General, PenCom, Aisha Dahir-Umah, who disclosed this at an interactive forum with the members of Nigeria Employers Consultative Association, NECA, , on the challenges and future outlook of the Pension Reform Act (PRA) 2014 in Lagos, informed that the commission had adopted different strategies towards ensuring compliance with the provision of the PRA 2014 by employers.
Dahir-Umah commended the recovery efforts, as been largely successful, noting that it had boosted the confidence of contributors and encouraged employers to embrace the Contributory Pensions Scheme CPS.
Represented by Head of Compliance, PenCom, S.L. Bwala, Dahir-Umah, noted that out of 14, 511 organisations that the commission received applications from, 13,469 organisations were issued with certificates remitted the sum of N110.69 billion.
She  assured employers that the commission has set up a transparent, efficient and effective process that ensures timely issuance of certificates to qualified applicants.
According to her, the pension industry had transited from a deficit of over N2 trillion in 2004 to accumulated pension fund asset worth over N8.23 trillion with registered membership of 8.14 million as at July 2018.
While urging the organised private sector to continue to champion programmes that will ensure the successful implementation of the CPS in the country, the PenCom boss, assured that the commission will continue to ensure the protection of employees' retirement benefits through robust dialogue with relevant stakeholders.
Earlier, Director General, NECA, Segun Oshinowo, represented by the Director, Learning, NECA, Celine Oni, said social dialogue had been one of the critical success factors that had shaped and guided the achievements of PenCom in the administration and implementation of the PRA since inception.
He stressed for continuous engagement between PenCom and stakeholders, for the purpose of development and sustainability, adding that forum would afford the regulators of the scheme the opportunity to obtain direct feedback from key stakeholders to enhance service delivery, guide operators and improve compliance to the scheme.