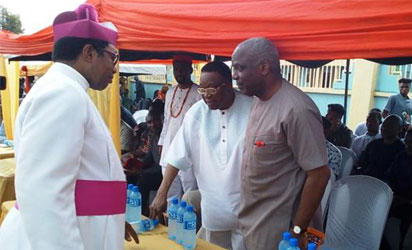 •Archbishop Chukwuma with former Governor Jim Nwobodo
By Dennis Agbo
ENUGU- THE ancient derogatory and discriminatory practice of ohu/amadi (slave/freeborn), prominent in almost all Nkanu communities of Enugu East Senatorial District was, last Saturday, abolished and confined into the dustbin of history in Ozalla town, Nkanu West Local Government Area of Enugu State.
In the primitive practice, which is still very much observed in most communities of Nkanuland and beyond, those referred to as ohu or slaves are regarded as less human and subservient to their masters or freeborn otherwise known as amadi.
In the real practice of the caste system, an ohu does not merit or aspire to be a leader or traditional ruler of his community and does not marry an amadi or vice-versa. In certain communities, the ohu live in clusters, isolated from their masters; and in the very primitive era, were used for human sacrifices if the demand arose.
Such were the practices before the advent of Christianity which whittled the practice, yet the amadis pretended that nothing had changed until the modern time.
History was, however, rewritten in Ozalla community on March 31, 2018, when Ndi jinze, (the custodians of culture and tradition), traditional rulers, town union leadership together with all other stakeholders in the community, agreed to do away with the obnoxious past, performed traditional rites to discard the ancient practice and created equal social status among all indigenes of the community.
Total freedom for the previous ohus was, however, consummated last Saturday with a symbolic marriage, interdenominational church service and merry-making among the people. The rain that punctuated the ceremony was described as showers of blessing that washed away the old things.
Dignitaries of Nkanuland were present at the ceremony to indicate their support for progress. They included the Second Republic civilian Governor of old Amabra State, Senator Jim Ifeanyichukwu Nwobodo, Nigeria's foremost Power expert and former Minister for Power, Prof. Barth Nnaji among many others.
Businessmen from the community and from other parts of Nkanuland, the academia, politicians and  people from all walks of life graced the occasion.
The clergy were in their numbers led by the Archbishop of Anglican Communion, His Grace, Most Rev. (Dr) Emmanuel Chukwuma; representative of the Catholic Bishop of Enugu Diocese; Methodist Archbishop of Enugu Diocese, Rt. Rev (Barr) Christopher Edeh; Methodist Bishop Emeritus, Most Rev. M. U Ogoh; Chairman of Pentecostal Fellowship of Nigeria, PFN, in Enugu State, Bishop (Dr.) Godwin Madu among others.
The church leaders commended Ozalla community for 'daring' to do away with the past, acknowledging it as a historic event which they prayed would be replicated in other communities in Enugu State to eradicate the inhuman discrimination.
Bishop Chukwuma in his homily said that "indeed the old things have passed away," noting that one problem with Ndigbo was that they don't forget the past. He further said that "all men and women were created equal by God and in his own image. Christianity came around to abolish fetishism and all other forms of bondage and social discrimination.
"The entire Igbo should stop segregation. From today, we have stamped our feet that the old things have passed away, what we should pursue now is unity and love, a new beginning with God."
Traditional ruler of Umuanee- Ozalla, HRH Igwe Crescent Okafor, recalled that the final process to abolish the obnoxious custom that sustained ohu and amadi syndrome for unification of Ozalla family was done on March 31, 2018 when the people of Ozalla made a public proclamation against all forms of social segregation in the community at Amigbo Nkwo-Ozalla.
Igwe Okafor said: "The abolition of  Ohu na Amadi is the assignment that God accomplished for us through his words which says 'if those who are called by my name shall humble themselves and pray…"
President-General, Ozalla Development Union and Chairman, Ozalla Development Committee, Chief Afam Ani traced the tortuous journey to the desegregation, unification, oneness and love in Ozalla to one Okwudili Chianake who in February 2017 approached him with God's instruction that the caste system should be abolished.
"Instantly, we agreed to form a tag team and pursued this project with tenacity," said Ani who noted that the traditional rulers gave a nod to it which brought about the formation of a committee named: Project for the Abolition of Segregation in Ozalla, PASO.
Ani congratulated the very key stakeholders and groups such as the Umu Ngwuani kindred, who are the Ozalla  Ofor Ani title holders, the Ndi jinze  (Ozalla custodians of customs and traditions), the traditional rulers and the committee members that made the historic abolition possible.